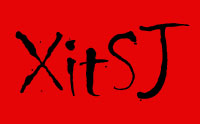 TEN IN THE SWEAR JAR
If you think that Xiu Xiu's latest album is too arty and not catchy enough then try Jamie Stewart and Cory McCulloch's previous band (I'm not going to talk about IBOPA, their first band, because I'd have to get into details and I don't like the music enough to do that), TEN IN THE SWEAR JAR. The band released one (1) cd, My Very Private Map and one (1) one-sided 12" clear vinyl that plays from the inside out titled Inside of the Computer Are all of My Feelings.
Ten in the Swear Jar
My Very Private Map
/acrobot; 1999/
As I said before XitSJ have only released two records. Apart from a very ugly, very photoshopped cover you will find : indications on how to get to JS's very special place in San Francisco and songs. Stewart and McCulloch through the various bands they were in, along with the people they were in these bands with tried to experiment within the boundaries of pop music, by melding pop, new wave, punk and mambo in IBOPA or IDM, punk, contemporary music and gamelan in Xiu Xiu. Ten in the Swear Jar is the less exotic of these experiments but probably the more cohesive. The non-traditional elements (accordion & saxophone) are never overused and everything sounds low-key and humble. The songs are definitely there, in Helsabot Stewart tells us about a fight he got in, about druuuuuugs. Sad Girl is the original version of A Promise's Sad Pony Guerilla Girl. Here there's a full band backing Stewart and as a result the song's much more oppressive. When You Write (Black Angels Version) is the second version of the song which had appeared earlier on an IBOPA 7". It's gorgeous and intimate, with cute arrangements. Worry Boy starts like a war march, with a martial drum machine, staccato accordion lines and suddenly the chorus kicks in with foggy lalalas. Sita Deth is an impressive quiet/aggressive song
my chest burns cause I'M SO tired I have to say GOOD BYE TO YOU NOW
The chorus is really really good as well I wish it was different/ I wish the things were regular /I wish it was different/ I wish the things weren't the same, complete with monster-like drums and clever use of the saxophone and accordion.
Even though most of the material gathered here is impressive, the band sounds young and sometimes unconfident, a problem that would be solved with their second release.....
Ten in the Swear Jar
Inside of the Computer Are all of My Feelings
/random order; 1999/
More people participated to the recording of the four tracks present and the band sounds tighter and more confident. This 12" features what I think is their best song, San Jose Fight Song and the disturbing I Love the Valley. Along with a 12" one-sided clear vinyl that plays inside-out you will find a comic book. no kidding. San Jose Fight Song could have been a hit. Really. It's a rock song with an accordion and a saxophone playing the guitar parts. And it works. With The Gauntlet of Thor the Destroyer XitSJ step out of the pop format and explore new territories, but even if it doesn't sound as such in the beginning, it's a rocker. The 12" ends with I Love the Valley. One of the reasons why this release sounds more accomplished is Stewart's singing. You can hear that he's way more confident with his voice and tries to push it further and test his own limits, as well as yours. I won't rest until I forget about it / I won't rest until I don't care.
A couple of months after this the band split up, Xiu Xiu was formed and eventually recorded and released the brilliant Knife Play.
---
DISCOGRAPHY:
IBOPA Squids: Obsession and Devotion -self-released; 1996
IBOPA Ballads for Ben Padrone -nubby; 1997
IBOPA When You Write/Cory's Theme 7" -pariah; 1997

Ten in the Swear Jar My Very Private Map -acrobot; 1999
Ten in the Swear Jar Inside of the Computer Are all of My Feelings -random order; 2000
Xiu Xiu Knife Play -5rc; 2002
Xiu Xiu Chapel of the Chimes ep -absolutely kosher; 2002
Xiu Xiu A Promise -5rc; 2003
Xiu Xiu Fag Patrol -free porcupine society; 2003
Xiu Xiu split w/Jim Yoshii Pile-Up -insound; 2003

LINKS:

www.xiuxiu.org
www.furioso.com/IBOPA/IBOPA.html
www.absolutelykosher.com
www.insound.com
www.5rc.com
-Barbara H
/july 1st 2003/