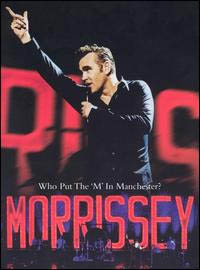 Morrissey
Who Put the M in Manchester
/sanctuary; 2005/
Re-issue ! Re-package ! Re-package !
Re-evaluate the songs
Double-pack with a photograph
Extra Track (and a tacky badge)
- from "Paint A Vulgar Picture"
Ohhh Morrissey. Congratulations on all of your recent success. Really. As long as those royalties keep coming in like clockwork, and as long as an album of his can be siphoned off into limited edition re-releases and live concert CD's, the Mozzer will be living an even longer and fruitful life. From the song "Paint A Vulgar Picture" I assume all of the various Morrissey and Smiths related releases throughout the years weren't all a result of his wishing for them to see the light of day, so unlike some people I harbor no hard feelings towards him. He's earned it, hasn't he?
So now we have this live in concert DVD, Who Put the M in Manchester, from his latest world tour in support of his spectacular solo effort You Are the Quarry. This DVD documents the concert where Morrissey flew back to Manchester (his home) for his birthday. Needless to say, the fanatics (and lord, there are many) came out in droves. At the beginning of the DVD an interviewer asks some bloke why this day is so important. After revealing his Morrissey tat's, t-shirt and the fact that he came all the way from America to see this particular show, you get a feeling of just how important Morrissey is to a lot of people. This man has an influence far and wide. Shit, I even just misspelled Morrissey on my comp and the damn thing auto corrected it. It doesn't do that for Mother Theresaa. See?
The concert is great and he still sounds as beautiful as ever. All the songs you want to see him perform are here (Hairdresser On Fire, Everyday Is Like Sunday, There is a Light that Never Goes Out, plus a lot from You Are the Quarry) and it's as close to the real thing as you'll get. But not for me suckers, I saw him at the Hummingbird Center last year. Ha! The DVD also includes five live performances from the Move Festival and three music videos (plus a little info piece called "Meet Your Meat," which is actually quite brutal).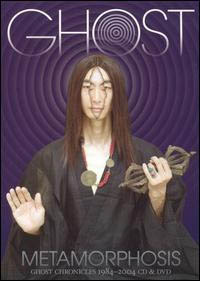 Ghost
Metamorphosis: Ghost Chronicles 1984-2004
/drag city; 2005/
Little is known about the Japanese band Ghost. Some people make the effort to go out and hunt down their masterful works (Soulseek is not effort), and those people and I are privy to a special little secret. If you pine for the days when music was intuitive, meditative, and when it could fill cathedral corners with the echo of a far reaching drum pattern or guitar figure, this band is for you. Ghost are nearly at Boredoms level hopelessness if you wanna see the band live, and that's why this DVD is so vital for fans (or anyone interested in the history of one Japan's key underground groups).As the subtitle suggests, the performances are from a myriad of locals, venues, stations, embassies, cathedrals, churches, tombs, et cetera—your typical cross country stops. The band is sort of known (or rather, has been known) as a communal entity, always on the move and squatting or playing whenever they find a place that resonates. The performances really are a marathon and you truly feel changed after some of them. As the DVD continues, the shows become more conventional and they are finally playing at a normal bar/club (and I don't blame 'em, they're getting old).
There's also a CD of nine unreleased tracks which span the 1980's. Some of them are live, some recorded from home, others from the studio and a few outtakes. These won't appeal to the layman, but anyone versed in this band career will find much to cherish. The DVD is the real keeper here.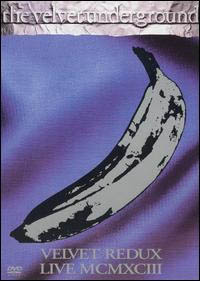 The Velvet Underground
Velvet Redux: Live MCMXCIII
/rhino; 2005/
There's not much to say about Rhino's DVD reissue. This concert was captured as part of the Velvet Underground's European reunion tour. Filmed live at the Paris Olympia in June of 1993, Live MCMXCIII is essential for anyone who hasn't witnessed the band. There are two obscure tracks here (the astounding "Hey Mr. Rain" and "I'm Sticking With You") as well as a new song ("Cayote"). It's unfortunate that there are no extra features since the DVD format would have allowed for a totally essential purchase. All one can do is press play. The concert itself is definitely worth a look though.
-Andrew Iliadis
/february 2006/