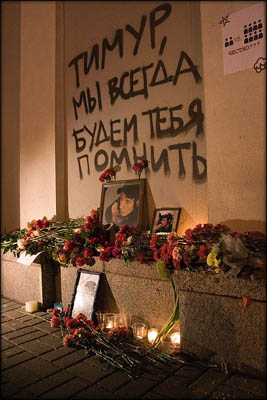 November 13 th 2005, around 19h00, Timur Kacharava, was attacked and savagely murdered by neo-nazis right in the centre city of Saint-Petersburg, Russia. The tragedy took place next to the metro station 'Ploshad' Vosstaniya', two meters from a bookstore entrance, on a major tourist square (the main train station is across the square and buses to Helsinki depart from there).
Timur was only 20 years-old.
Everything is supposed to begin when you're twenty. For Timur everything ended.
He was a philosophy student, a musician. He was an active member of the St-Petersburg hardcore and antifascist community as well.
That afternoon, Timur and his friend Maxim were on the way back from their weekly social benevolent work. A couple of hours earlier, they participated in the "Food Not Bombs" charity action (an anarchist movement which aims at cooking vegetarian food and giving it to people who need it, and especially to homeless people, the 'human trash' in nazi terminology), which is a marginal initiative in Russia. About ten neo-nazis tracked their way from there, backstabbed him several times in the throat. The attack lasted about a minute, was brutal, fast and organized. Timur and Maxim were waiting for their friends who were in the bookstore. When their friends went out, aggressors had already vanished. The ambulance arrived about ten minutes later but it was too late… Maxim survived several knife wounds and is in a stable state now.
Timur was one of the founding members of great St. Petersburg political hardcore band Sandinista!, which formed in 2003. He was the musical leader, wrote most of the music and played lead guitar. The band's debut is to be released on Moscow's label Old School Kids whose Old Skool Kids Fest dvd (released in September 2004) features several songs by Sandinista! Last summer, Timur also joined another local hardcore band named Distress. Maxim was also a member of Sandinista and plays bass and sings in grind duet Potom Budet Pozdno (Later will be too late).
Rest in Peace, Tim.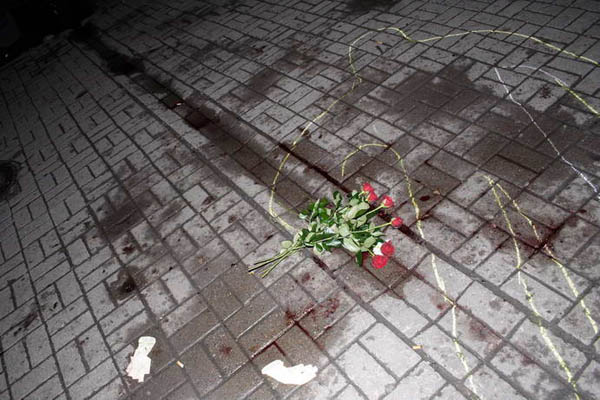 Sandinista! website: http://www.myspace.com/sandinistaxspbhc
Here are two Sandinista! demos: 'Libertad' and 'Cyfry'.
Check the Old School Kids website to know when the album will be available: http://www.oskrecords.com
A part of this text has been translated from the site dedicated to Timur: http://stop-it.narod.ru/
-Only Angels
/february 2006/