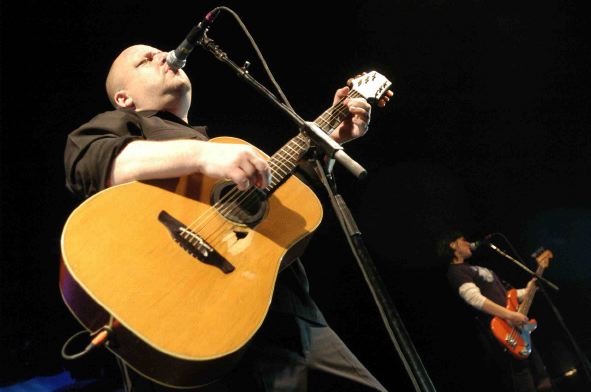 Concert report: Pixies
Toronto - Arrow Hall
Wednesday, November 24th 2004
I had thought that seeing the Pixies would be the apex of my concert going life span. Never mind Sonic Youth, The Rolling Stones, Morrissey, or even Weezer or Trail of Dead. This was the one rock 'n roll band who could not play a single bad song in their entire set, as they have never released one (no, "Bam Thwok" doesn't count). They are the epitome of indie rock and are Godfather of every indie rock band that exists today. It was going to be the concert of my life, a story I could tell my children while playing Doolittle in the car stereo. These were not just high hopes for me; it was what was expected. Of course, they played an amazing set and there were a few moments that I'll remember for a long time, but the feeling of disappointment I had after the show was crushing. Blame wasn't solely on the Pixies, there were numerous elements that plagued this show and doomed it from the beginning. The story goes like this…
Arrow Hall is one big hanger, and it is notorious in and around Toronto as one of the worst venues on Earth. I've met people who've said that Radiohead sounded like shit in this place. It is long, flat, ugly and worst of all, has some of the most terrible acoustics of any venue I've ever been to. I assume the reason the concert was held there is because it is much bigger than any of the clubs in downtown Toronto (more money to be made), but it is still smaller than the Air Canada Center, which I doubt the Pixies would have been able to fill. It almost resembled an outdoor concert (right down to the food booths and insane prices) where the crowd is vast and level, disadvantaging anyone who wasn't somewhat near the stage of a proper view. God damn Arrow Hall. This was unfortunate circumstance #1.
Since Arrow Hall is a good 45-minute drive outside of Toronto, it is only too perfect that the weather was some of the worst we've had around here this year. The bitter cold and freezing rain did not help the drive, nor the hour and a half of waiting in line outside. That time would prove to be miniscule compared to the ridiculous wait we headed towards inside. This was the first concert ever where I felt the need to sit on the floor, where I remained until the opening bands came out. I would soon realize that I should have stayed there.
After another good 45 minutes of waiting, The Marble Index came out. There were exactly two good things about them. The endings of a couple of songs ripped off Sonic Youth with some Sister era propelling rock jams, and the lead singer seemed so uncomfortable on stage that he talked about the Pixies almost every time he spoke and said things like "Check ya later" (think Wayne's World) at the end of their set. He also compared one of their songs to "Velouria." A little humor helped. Thanks Marble Index.
Next came The Datsuns. They are one of the funniest jokes to ever grace a stage. I mean, oh my God. Skin tight pants, long hair, solos solos solos, "Yeeeeeaaaaaooooo," it all seemed like one never-ending horrible song. Kind of like The Darkness, except these guys are not fun, funny, or good. They also take themselves very seriously. I have never hated music this much in my life. It was boring to the point of banality, and I felt stupid afterwards. I am not joking in the least. The Marble Index was Radiohead compared to them. After their set, The Datsuns walked off stage like they couldn't give less a fuck, after having said nothing to the audience. I wanted to chase them down and make them repent.
Finally, the Pixies came out. By this point, I had grown so numb to the whole experience that I almost didn't notice. There they were, at long last. Boy did their age show. Frank Black is now like a perfect beach ball, Kim Deal was smoking a cigarette every other song, Joe Santiago looked like he didn't know what city he was in and David Lovering looked like a dad having fun playing for his kids. Now, aside from everything that preceded their arrival, the show was good. If you'd like to judge the concert by just the Pixies performance, then it was a blast. They played everything a fan could want to hear, including: Tame, Bone Machine, La La Love You, Where Is My Mind, In Heaven, Velouria, Monkey Gone to Heaven, Wave of Mutilation, Mr. Greives, Caribou, Debaser, Gigantic, U Mass, Vamos, Hey...and others, I can't remember them all. Although they looked a lot older, the music was the same. They played amazingly well and with so much energy, almost as if they had never broken up. I was ready to go absolutely fucking nuts during the first song you could pogo to when...to my disbelief...I noticed that the majority of people there would rather stand and observe the band silently. Having to hear songs like "Tame" and "Debaser" in concert and not be able to jump around with anyone was a total downer. So, there you have it. Besides the Pixies and their music (which was perfect) absolutely everything else about this show totally sucked beyond all expectations. There was one perfect moment though, that made all the negatives seem irrelevant. Frank Black sat in front of the drums, guitar in hand, and carefully strummed a tune, Lovering gently followed suit and tapped a beat, Kim Deal had a smoke in her mouth, eyes almost closed, strumming away, all while Joey playing a few small tricks on his guitar with a drumstick. The others watched smiling/talking to one another, from a few feet away. It was the perfect picture of this incredibly talented band still enjoying their time with each other, and I can only be so thankful that I was able to share it too. And
D E A T H T O T H E D A T S U N S
-Andrew Iliadis

/dec 1st 2004/