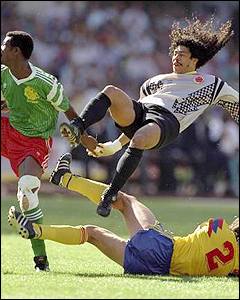 Metaphysics, football, haircuts and indie music
by SEB WOOd
If you like football and hairdressing but you don't like indie music, jump to the end of this text and have a taste of uselessness…
I've just listened to Nurse by Sonic Youth once again. My inner voice is telling me that I've intended to write the review since the album's release date, about 6 months ago now. I already tried several times to write it but somehow gave up. The thing is I always had something else (by bands that need more exposure) that I relied to in a way or another to review. The thing is I want to make it short and meaningful but my endless thread of thoughts keeps me supplied with new comments, new emotions, new comparisons, etc. And in the end my mind tends to focus on the music I'm playing at the very moment when I'm trying to write the review.
So I guess this summer, I thought about how much I like The Meat Puppets second album, The Fall's The Real New fall lp, how much I felt close to Firewater's The Man on the Burning Tightrope. Then, this fall I guess I thought about how impressively touching was 'Willamette' by Richmond Fontaine, how great is 'Evil' by Interpol but what a pity you feel like listening to the same song almost all the time when playing Antics, about how desperate but hoping for better days is Nick Cave's Abattoir Blues / Lyre of Orpheus, etc.
I know I'll write the review anyway because, in my opinion, Nurse is the best album released this year. My friends keeps saying I'm not objective when it comes down to Sonic Youth. Well, 1) I'm more objective than they think I am. 2) Reviewing means giving your opinion. An opinion is in essence subjective. Objectivity is saying 'I'm watching A Team' when you're watching A-team.
I tried to write this review today but after having listened to the album, I played A Healthy Distrust by Sage Francis and I unintentionally shifted from "how insanely fascinating is this Sonic Youth album, it contains almost all the things I like about indie-rock" to "it's very hard for me to articulate what exactly I like about hip-hop but I really like this Sage Francis new album; he takes samples from everywhere…he does not confine himself to mere hip-hop, there is Will Oldham on one song, he pays homage to Johnny Cash in another one…his music is really idiosyncratic…" Then I thought about something else, and about something else I can't remember, and about something else and so on…
Ghosts and the swing of things…
Endlessness is boring. When you cannot stop your mind from thinking, it is annoying and eventually depressing. It prevents you from sleeping, from being operational the next day. Who wants to live forever anyway ??… Sometimes your mind gets tired from thinking too much and links up things that have nothing to with one another…
So, one thing led to another and I ended up making my all-time international favourite capillary football (soccer) 11. So if you're interested in this team which is keen on attacking, here it is:

1. René HIGUITA: what a permanent wave !


2. Taribo WEST: his overall capillary activities deserve attention.


3. Andreas BREHME: his haircut is similar to German 80's porn-stars according to some acquaintances…


4. Alexis LALAS: ginger power (and he plays the guitar too!).


5. Zoran VULIC : when he had his hair parted to the side, he unfortunately looked like Hitler (similar moustache too).


6. Marcel DIB : hair's freedom.


7. Freddy LJUNGBERG: when he had this Iroquois-like haircut, he was at his best.


8. Chris WADDLE: everyone know The 'Waddle's haircut': crew-cut and long-haired, a slight improvement of the famous hairstyle named the Mullet (just short on top and long at the back). I can still remember when I used to play football, one day I entered the hairdressing salon and proudly told the girl that I wanted Waddle's haircut… He definitely was someone important in hair history.


9. AHN: a Korean forward who had his hair dressed as if he was an Asian high-school girl during World cup 2002 (I guess he hasn't scored since 2002)…


10. Carlos VALDERRAMA: unquestionable. If you don't know this great Colombian player, just e-look for some pictures.


11. CANIGGIA: untidy Argentina!
Substitutes:


13. Jeremy JANOT: Saint-Etienne current goalkeeper has got a skin head haircut and an ugly tribal tattoo on the back of his head.


14. Trifon IVANOV: why even bother combing his hair ?? I hesitated between him & Ivan CAMPO but I'be never liked the latter…


15. Ruud GULLIT: a talented player but his haircut only makes him a substitute. I know that's rude, I'm sorry but my emcee (meaning my n°10) is definitely Carlos Valderrama… You can't play with two n°10 in your team…


16. Tony VAIRELLES: French forward, my favourite loser-player, he had Waddle's haircut when he started his career… I know I should have capped Henrik LARSSON but he shaved his hair a long time ago and I want our non-french readers to make discoveries…
17. Wagner LOVE: Brazilian forward currently playing for CSKA Moscow, he stole his hairstyle from Taribo West but it remains pertinent, and taking his name into account, I had to mention him.
Note: Djibril CISSE has been disqualified because he is not faithful enough to a specific haircut.
Note 2: Aleksander FILIMONOV has been disqualified too because your teeth are not supposed to overshadow your hairstyle.
I'll write a Nurse review sooner or later…
-SEB 'what does sense mean anyway ??' WOOd.
/dec 15th 2004/