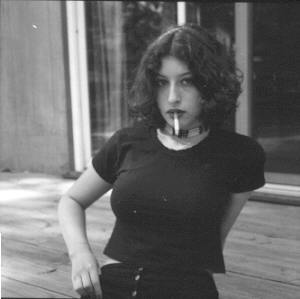 Lauren Hoffman
One day in 1997, I was looking at teenager's favourite TV show called 'Nulle part Ailleurs', hoping that the live music would come to the screen before my parents got into the living room to watch the 8 o'clock news. In those times, one of the only chances you had to see music performed live on French TV was to wait for the end of your busy day at school, head back home on your cheap smashed up motorcycle, pretend to do your homework in the empty house, adjust the nirvana posters on the walls of your room, feed the dog, set the table, eat up eagerly a motherly cooked dinner, talk about your day and your plans, put your plate in the dish washer, leave the table to avoid adult conversations about politics and serious matters like your hair or your style, lay full prone on the couch, switch on tv and wait for the daily live performance in Nulle Part Ailleurs. Thanks to that show, I had the chance to discover Grandaddy, Diabologum, The Amps, At The Drive in,…

On that day, a red haired shy girl named Lauren Hoffman played her debut single 'Rockstar'. She seemed to be so small with her big red vintage guitar, her hair was almost covering her eyes. They must have been blue. I really liked the freshness of the song and the genuine attitude of the girl. The drummer tortured his drum kit feverishly, while Lauren smiled at the surprise aroused in the audience. I still have that performance on tape somewhere. The song was catchy and pretty ironic, "They put a shrine on you in Rolling Stone / 16 servants weeping at your throne / I love you ten times more dead than alive / I want to be a rockstar too".
After that, one day when one of my teachers was sick, I went to the local music store instead of going in prep room and I was surprised to find the album there because I lived in a small town. I bought it and went to the café where my friends were playing table football. None of them knew Lauren Hoffman and I felt superior for that, as I was not a king of table football. Well, in fact I was never a really talented scorer but I was a good goalkeeper on the other hand, so I guess that's why none of them ever mocked me for that. No one was 20 in those times.

I played 'Megiddo' a lot during the following months, captivated by the melancholy and the beauty of the songs. I remember fantasies about Lauren being my soulmate, her words echoing my own pains while I was slowly drifting away from my friends to a closed depressed state of mind. All the references to blood struck me deeply and I started to stop worrying about the daily wounds I got. I guess I must be called a latecomer in terms of teenage crisis because I never felt quite differently when I entered university on the next year. All my friends changed except one who would always be special to me. I went from shy to more shy and then progressively stopped being an asshole with myself.

In 1999, she released her second album, 'From the Blue House', something more adult, like myself. This album is more acoustic and even more sincere. As I started opening myself to the world, my friends changed again and I started a real life. My brother gave me his acoustic guitar, I started writing songs, getting drunk, smoking, believing in myself, confiding to some people, giving my opinion, going back home in the early morning, practicing my jokes and learning the tricks of the trade. I never really had a long term serious relationship with a girl but I made my way through life without worrying about it. I even had sex with a lesbian but was too drunk to remember all the details. When I think about it, I play 'Pink Triangle' by Weezer and smile, because for a second I really thought that I had found the one. Lauren was always present somewhere in my mind, melodies and words going through my head all the time. The song 'Look Like Shit' is one of my favourite. After a while I discovered that she had stopped doing music and felt sad and betrayed for a second, before considering the fact that it was only music in the end. I guess it is more than that.

Unsurprisingly, this coincided with my first big romance. I fell in love with a girl but was stupid enough not to tell her when we were together. From the first kiss, we started drifting apart inexorably. She eventually found a job in Switzerland and rarely took the plane back to me. I childishly e-mailed her my love one day, too late of course. We eventually met a few weeks later in a café to talk over it and she deceived me by pretending that this was not really important in the end. I remember going back home after that cold meeting and some friends had gathered to watch E R on tv at my place. I must have been awful on that evening. I remember entering the living room and say, looking at Dr Greene on the screen, "Isn't he dead yet, that jerk?", and lock myself in my room, reorganising the furniture. I played Megiddo on that evening, only sad getting sadder. My roommate helped me a lot then, as we shared the sadness of our relationships. She is now more happier than me in this field, and that's just fine. When I think about that perfect girl (or so it seemed), I can't understand why did the screw up come. She was just perfect to my eyes and to my mind, she liked my humour, we shared the same passion for cooking, and more. In the early days of our relationship, time would stop when we kissed. She even liked the Beatles as much as I did. But her favourite has always been John Lennon. I have the tendency to prefer Paul McCartney. So I guess it would have been a problem someday. It took me a long time to forget her, or better said, to stop believing I had been an asshole with the two of us. She had her share in the screw up.

If you want some more explanations, just watch Annie Hall by Woody Allen.

The years from that time onwards are equally boring and happy but I would need more time to get into the details. Lauren Hoffman has always been there, and no longer only during the bad times. Her albums are unquestionably precious to me but others joined her in the hall of fame; Chokebore, Graham Coxon, Pavement,… After years of silence, she has returned with a band called The Lilas. My therapy is heading towards another level.

This is my life and it's ending one minute at a time.
-Angus J Anderson
/may 1st 2004/