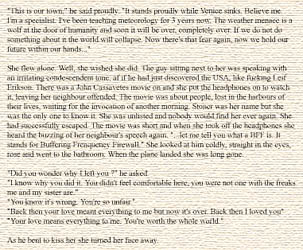 mixtape #1: Songs for Enrique
Actually, it's a mix cd. I'm going to send it to Enrique, who lives in Mexico. If you live in Mexico and think "¡Ay! ¡Es possible que yo lo conocería! ¡Caramba!", his full name is Enrique de la Torre (it's a name you want to shout very loudly : "¡ ENRRRIQUE DE LA TORRRRRE !"). Spanish is a great language.
I've known Enrique for some time now, probably a year or so and since we're two persons who get bored quite easily, we've wasted our time talking about music or other things during this past year. We're on some message boards and there was a mix-cd swap organized : we send some other person on the boards a mix cd of 2002 music. And you know what? Enrique de la Torre and I were paired. Suertudo latino. I hand-crafted great artwork, with paper, cardboard, thread, fire, pencils, pins, glue and tea. I even put up a little story, written in a couple of minutes in which all the song titles are written in order except Vaka, try to include Vaka in a sentence without making it sound awkward. Names not allowed.
here is the tracklist, i'm very proud of it. Hood's Cold House was released late last year so I thought that I could put You're Worth the Whole World on the cd. I would like to thank Soulseek. Love, I honestly couldn't have made it without you.
Radio 4 Our Town -from Gotham!
Ikara Colt Sink Venice -from Chat & Business
Sage Francis Specialist -from Personal Journals
Buck 65 track 3 (edit) -from Man Overboard
Radiohead Keep the Wolf from the Door -live in San Sebastian
Xiu Xiu Over Over -from Knife Play
Múm Now There's that Fear Again -from Finally We Are No One
Chokebore She Flew Alone -from It's a Miracle
Interpol Leif Erikson -from Turn on the Bright Lights
Ekkehard Ehlers John Cassavetes #2 -from Plays
Tom Waits Lost in the Harbour -from Alice
...And You Will Know Us by the Trail of Dead Invocation -peel session
...And You Will Know Us by the Trail of Dead Another Morning Stoner -peel session
Hot Snakes Unlisted -from Suicide Invoice
Girls vs Boys BFF -from You Can't Fight What You Can't See
The Black Heart Procession Did You Wonder -from Amore del Tropico
The Notwist One with the Freaks -from Neon Golden
Sigur Rós Vaka -live in Vienna
Faultline Your Love Means Everything pt2 (ft. Chris Martin) -from Your Love Means Everything
Hood You're Worth the Whole World -from Cold House
-Barbara H.

/nov 15th 2002/