Die Stadt: Adventures in Sound
Introduction
There are countless record labels littering the musical landscape. You've got the majors, indie giants like Matador, the smaller labels that carry maybe one or two acts and everything in between. It's hard to differentiate the worthwhile from the waste of time; you've got to sort through all kinds of them. Then there are the truly experimental labels which cater towards decidedly esoteric tastes. Unlike the many indie labels littering the scene there are an original few that are dedicated to a different musical ideology. Tzadik, tUMULt, Load, Liquid Death/Hello Pussy, the list goes on… Die Stadt can be included in the category.
Die Stadt is a record label based in Germany and is run by one Jochen Schwarz. While the label releases music by some modern artists, they also try to reissue what they think are impressive experimental recordings from the past. These recordings range from reissues of early material by sound pioneer Asmus Tietchens to once limited edition William Basinski experiments. Here are a few choice picks from the label's catalogue as it was last year; by now they've amassed quite an impressive list. With names like David Tibet tied to some of these releases, I don't have to mention that only adventurous listeners need proceed (well I guess I just did mention it)….
[The following excerpts and quotes can be found directly on Die Stadt's website, as well as pricing and other information]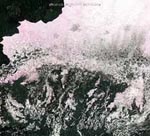 MONOS – "Nightfall Sunshine"
Monos is Darren Tate (a member of ORA) and Colin Potter (who besides also being a member of ORA collaborated with Steven Stapleton on several Nurse With Wound albums - especially on the latest 'The man with the woman face'- and with Jonathan Coleclough on their 'Low Ground' CD, also releases solo work on his own IC label). 5 tracks based on field recordings by Darren Tate which were then electronically processed in the studio by Colin Potter. Dark & sometimes dense soundscapes all displaying a strange spelling beauty. Both artists regard this album as their finest work so far.
This full color CD comes in a full color digipack with clear tray.
Artwork by Darren Tate and Helen Potter. Design by Jonathan Coleclough.
Limited edition of 700 copies of which the first 100 copies include a signed & numbered photograph by Darren Tate only available through Die Stadt mail order. This edition is deleted.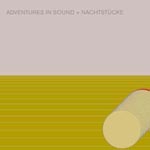 ASMUS TIETCHENS – "Adventures In Sound / Nachtstücke"
First in a series of 18 CD's aiming to make available all early vinyl albums by Asmus Tietchens between 1980 - 1991 on CD. Each release features the original tracks (sometimes extended / original versions) + unreleased bonus tracks from the same recording period, original artwork + accompanying texts by Tietchens. This - the only 2CD in the series - feat. his very first album 'Nachtstücke' from 1980 (incl. 4 bonus tracks) + a 2nd CD with archive material recorded with his long time friend Okko Bekker between 1965-1969. These are the first works in Tietchens long career as a sound artist and were never released before. Edition of 1000 copies in jewelcase with full color poster booklet.

KONTAKT DER JÜNGLINGE – "n"
Fourth part in the ongoing series of live collaborations by THOMAS KÖNER & ASMUS TIETCHENS. This marks the end of the first phase in their mutual work feat. the familiar 'classic' cover style. The music was recorded on the 28. May 2002 at the 'Stedelijk Museum' in Amsterdam and shows the two treading on quieter grounds this time. Edition of 1000 copies of which the first 100 copies come with silver printing only available through mail order.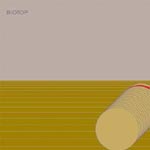 ASMUS TIETCHENS – "Biotop"
The second part in the rerelease series and the first of four albums that were issued by Sky Music in the early 80's. The CD version incl. 2 unreleased bonus tracks and is another edition of 1000 copies with poster booklet in jewel case.
With the release of this album, a 3 year interlude began which was dominated by the use of Roland 'CompuRhythm' drum-machine. In addition, I discovered new sounds and playing possibilities on the Moog which considerably expanded my creative armoury. I also added a conceptual self-limitation: no track should be more than four minutes long. In the end, the majority of the pieces on the first two Sky albums actually clocked in at under three minutes each. In the opinion of my musical mentor Okko Bekker, their sparseness and short lenght evoked the impression of radio time-signals (Radio-Zeitzeichen), a form of acoustic station identification which was already obsolete by then. This reference provided me with the name for my accompanying orchestra, which consisted solely of musicians from the experimental music scene in Hamburg. Because of the total absence of bass lines the commercial potential of the pieces was virtually non-existant. The album was recorded on an 8-track Otari tape-machine. The Eventide digital harmonizer and the Ursa Major 'Space Station' reverb-machine also played a part. All of the pieces were recorded in 1980. They were not commissioned by any label, the contact with Sky Records only happening in 1981. The two bonus tracks from 1979 mark a decisive break with previous work ('Nachtstücke'). 'Futurum Drei' was recorded between 6th and 9th of July 1979. 'Fast Food' came three weeks later. While the first of the pair does not totally make the break with the old way of working, the second points clearly into a new direction.
I would particularly like to thank Günter Körber (Sky Records) for his kind permission to re-release 'Biotop' and the three other Sky albums, and for allowing me to use the orignal labels in facsimile.

- Asmus Tietchens 2003

[Die Stadt Editor's Notes]
All of the recordings on the four Sky albums were treated with a then brand-new system used for suppressing surface noise and for minimising tape and equipment noise. Unfortunately , very quiet passages such as fade-ins and fade-outs suffered from this treatment. On close inspection, some of the tracks on the LP's definitely show signal break-up and lack of brightness. With hindsight, because of the high level of signal on the original tapes, I could have avoided this treatment. However, at the time I decided to go ahead because I thought it a more professional approach. Less would have been more. Only tracks 9, 10, 13 and 14 were treated in the above-mentioned way. On this CD I decided to use the original tapes. On its original LP, the track 'Biotop' end with a lock-groove. On this CD it has a rapid fade-out.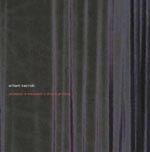 WILLIAM BASINSKI – "Variations: A Movement In Chrome Primitive"
Another excellent work from the archives of American composer William Basinski (who is also responsible for one of the most beautiful and moving series in the
field of experimental music: the four 'Disintegration Loops I-IV' CD's released on his own 2062 label). This 2CD is a joint release with David Tibet's (CURRENT 93) own DURTRO label. It comes in a 4 panel digisleeve.
First edition of 600 copies.

WILLIAM BASINSKI about this work: 'Variations: A Movement In Chrome
Primitive' was created in 1981 using piano tape loops, which were played randomly against themselves creating feedback loops. By "cloning" small cells of melody and then "breeding" them randomly, new sounds were formed.
These new sounds move in and out of the original cells, creating complex crystalline structures: new life forms not unlike cities for example, which the original cells occupy, moving in and out of one another in surprising variations. The equipment I used to record these pieces was very primitive and my recording technique preposterously amatuerish at that time, yet what occured in these youthful experiments compelled me to continue learning and growing as a composer. Many thanks to David Tibet for releasing this work at last.
for James Elaine

DAVID TIBET about 'Variations': 'I am delighted and honoured for myself and Durtro to be releasing, in collaboration with Jochen Schwarz and Die Stadt, 'Variations: A Movement In Chrome Primitive', a heartbreaking new album by one of my all-time heroes, William Basinski. I was originally introduced to Basinski's inexplicable and beautiful work by Antony of Antony And The
Johnsons, with whom Basinski has played, when Antony gave me a cassette tape of his work of excerpts from the 'Variations' album that is now available from Durtro/Die Stadt. I played it to death and asked Antony for more information on this elusive artist. And the result of my love for his work has comeabout to my delight...
Basinski is an innovator, a visionary and a sweetheart. I love his music.
So will you !'

Godislove

David Tibet, 15/X/2004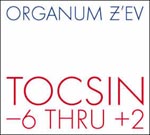 ORGANUM / Z'E V – "Tocsin -6 Thru +2"
Following their maxi CD 'Tinnitus Vu' on Touch in 2004 'Tocsin' is the first full lenght album produced together by these two renowned sound artists. Whereas 'Tinnitus VU' was mostly the result of Z'EV reworking material by Jackman, 'Tocsin' is the result of the artists agreeing to meet and work together in the studio. They created and recorded sounds from a piano (which can be found at RMS Studios London) and a stainless steel instrument (built by Z'ev circa 1989), over the course of several hours. They then took the recordings home, and after a period of each one mixing these sounds by themselves came up with what can be heard on this CD. Two distinct sets of work which formed this multilayered and fascinating album.
Graphic design: David Jackman. Graphics engineer: Jonathan Coleclough.
Edition of 600 copies in full colour 4 panel digisleeve.

Visit Die Stadt:
- introduction by Andrew Iliadis
/march 2006/