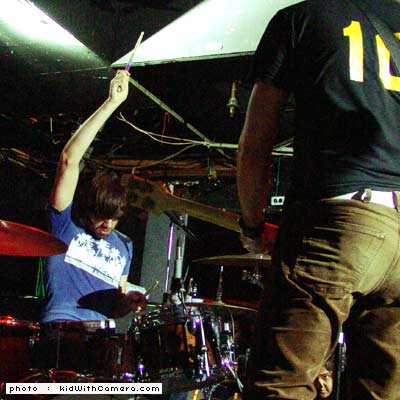 Concert Report: Death From Above 1979 + AIDSwolf
Toronto – Kathedral
Thursday, December 30th 2004
Besides seeing Death From Above 1979 in an opening slot last year and occasionally witnessing the sonic assault of true noise nihilists like Hair Police, I was pretty much a noise(rock) virgin in regards to attending any full length live shows. I caught DFA1979 once and as I noted in my review of You're A Woman, I'm A Machine, I was a little disappointed with the band during my first encounter. They seemed disjointed and were unable to get the crowd stoked before the following act. Thursdays show at the Kathedral couldn't have been more different. It was authentically raucous and dirty, and I left feeling worked over and completely ecstatic.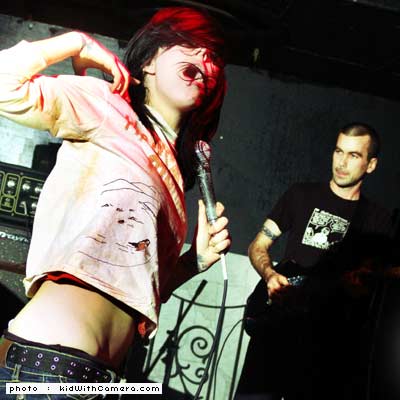 After our little entourage settled in with a few beers, we began chatting about other bands in the genre, smoked a bunch of cigarettes, and were feeling pretty buzzed before the first note was played. Then it came. A real dirty one. In our discussion of noisy bands, someone had asked who was playing before Controller.Controller, and I had replied that it was this band from Montreal called AIDSwolf (as I learned earlier in the day from one of a few message board discussions, which proved to be the only bit of info I could get). We got right up from our lounging position to go watch their set, and boy, it was worth it. The band plays really disjointed, muddy scree rock in the vein of Scratch Acid andRapeman. It was loud and packed a punch, but the best thing about them, hands down, is singer Chloe Lum. This girl got down, jumping-screaming-turning-convulsing allovertheplace. It looked as if there were some invisible midget stabbing her in the back. Combined with the sawing out-of-tune guitar and strong fractured drums, it turned out being one of the better opening acts I've seen in a long while. If they had had at least an EP for sale I would have grabbed one, but as I said, they had recorded nothing (note: I believe they have recently recorded an EP coming out on vinyl, and are looking for distributors for the CD. Someone help them). After this amazing surprise came Controller.Controller. I wasn't the biggest fan of the band before the show and things aren't very different now, but I won't go into it. Let's just say that in my inebriated state, they kept the mood alive and we all really wanted to start moving.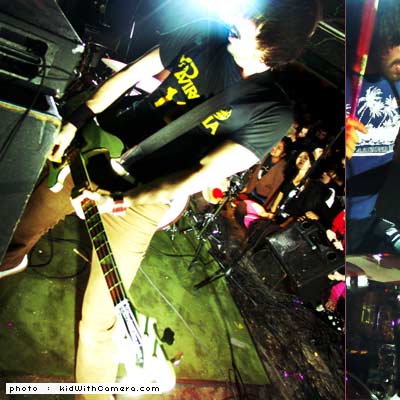 And move we did. As soon as DFA1979 kicked into the first song off of You're a Woman the area ten feet from the stage instantly became an amalgam of quick-step, mosh, dance and spaz. We hadn't entered the main section of the floor yet, but watching from where I was, gulping the rest of my beer, I witnessed a spectacle that I immediately wanted to become a part of. Arms were flying everywhere in all directions. Bodies were moving quicker than villagers at a tribal dance. People were gyrating like there was no tomorrow. We ran in.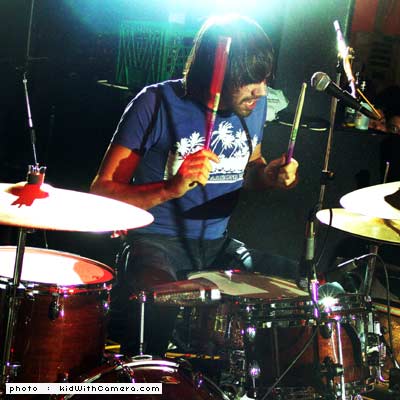 For the rest of the concert, I caught proper sight of my surroundings for maybe a total of five minutes. The rest was a barrage of bodies, flashing lights, smiling faces and the odd glance at the band, who occasionally hung down from the stage holding onto the rafters. It felt like what I imagine being swept up into a tornado would feel like; our senses overwhelmed by the enormous force of energy that was that dance floor. The band played pretty much the entire album and throughout all of their set, the heat was on. These boys were tight, powerful and unfaltering. One look at them near the end of the night and you could see the sweat and pain clearly on their faces, but they kept playing with equal ferocity. This was not the band I saw over a year and a half ago. Leveled, I admired with great respect the band who -- with two members, no less -- brought this glorious brand of dirty dance rock.
When things were finally over, I felt ridiculously satisfied, like when you almost have to giggle laying in bed with your hottie after an amazing romp under the covers. Dying for some fresh air, we went outside slightly dazed and began the stumble-walk home.
- Andrew Iliadis
photos courtesy of www.kidwithcamera.com

/mar 1st 2005/