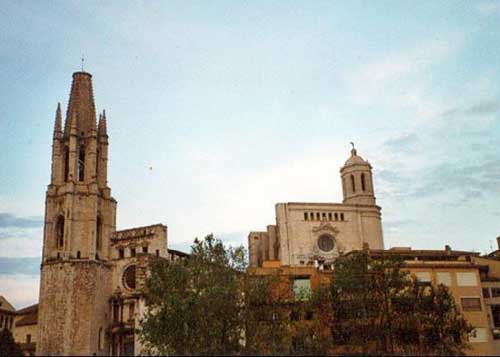 BCore Disc 15th anniversary festival,
8 & 9 of April 2005
Swell Bar - Leganes, Madrid Spain

If you go and live in another city or country, once you've settled down, you start doing stuff. That very often includes visiting the place, getting to know local traditions, etc... the whole tourist thing. But this never lasts really long, 'cause you're not on holidays (well not really), you 're there for a longer period of time, to work or something, so you need a daily life, a weekly routine, boring things 5 days a week to go wild on the weekend.

Oh my gosh, how crappy is that ??

Yes indeed, you're not a lazy student anymore, you'll be 30 sooner than you think, social pressure is getting heavier, you need to work to get money to eat and get a girl before it's too late + your mum is not there anymore to buy your underwear. But, deep inside, you're still a lazy wanker, and being abroad just gives you the perfect excuse to live the vida loca a bit longer, as people around you buy fully equipped kitchens & adopt dogs to practice before getting kids of their own.

Oh my gosh, how sad is that ?!?

Yes indeed, you need a bit of vida loca to think about something else. Most of the time, you need other people to live the vida loca. So one of the other stuff you have to do once you've settled in this new city/country is meet people. Radiohead said "Meeting people is easy" so you're like "ok, if Thom Yorke can easily meet people with that face he has, it should be ok for me", but you're not 20 anymore and real life is not like a Klapish film. So after a few desperate attempts to socialize with Erasmus student, born in the 80s, who definitely don't live in the same world as you, you realize that more than vida loca, what you really need is a bloody underground concert, for fuck sake !!!!

That's how my friend Horace de Tupolev & myself ended up in the Swell, a bar in Leganes in the outskirts of Madrid, Spain. This was not our first attempt to interact with the local underground scene: for example, we saw the stoner band MULETRAIN (ex Aerobitch) twice, including once in the squat"La Rata" with CARNACEIROS, MOHO and the crappiest PA ever. (the place eventualy got closed by the police a week later and destroyed by bulldozers). But this time, in Leganes, it was quite special: B-Core, the notorious label from Catalunya, was celebrating its 15 years over 2 days in Madrid, with STANDSTILL headlining the first night & NO MORE LIES the second. To make it even more special, the bar was litteraly against the Plaza de Toros (where AC/DC recorded their "No Bulls" live album) located in the... calle AC/DC (a tribute from the local authorities to the brothers Young & Co).
We didn't go and see StandStill on Friday (too busy giving a second chance to the vida loca in the clubs of Malasaña) but we did go and see No More Lies on Saturday. And it was pretty cool !!

Opening were MURDO, a local duo (who apparently were still a trio 2 weeks before). A drummer and a guitarist, like the White Stripes, except that here Jack would have been replaced by Steve Albini and Meg would have been jamming with Fantomas and got herself an extra pair of arms. Quite impressive !! We talked to the guys afterwards (Jose Ba & Mae), pretty cool people ! They even gave us a copy of their EP, featuring 3 songs (titled "uno", "dos" and "tres") out on Mekazuki Records (mekazukirecords@mixmail.com).

Next were No More Lies, from Sant Feliu de Guixols reprezent. we've heard about them many times before but never got a chance to listen to their music. Honestly, we were expecting something hardcore, or emo, like Standstill used to be (can't tell about now, we missed the show the day before), but it turned out to be very rock'n'roll !! Catchy tunes, pretty fast, fucked up breaks, deep screamy voice, sounded a bit like Fugazi at some points. But the guitar of Santi Garcia (guitar/vocals + producer @ BCore) was a bit too "lead" at times (aaaah, the (in)famous spanish tradition of guitarsolo rock...) but that's just bitching about details... We really enjoyed our first "Sant Feliu de Guixols flavour" experience !!! But then it was time to run and catch the last night bus.

Aaaah, running in the streets of an unknown town to catch the last bus home after a hardcore concert... feels like you're 17 again !!! I love it !!
-Alex The Cramp
/may 1st 2005/