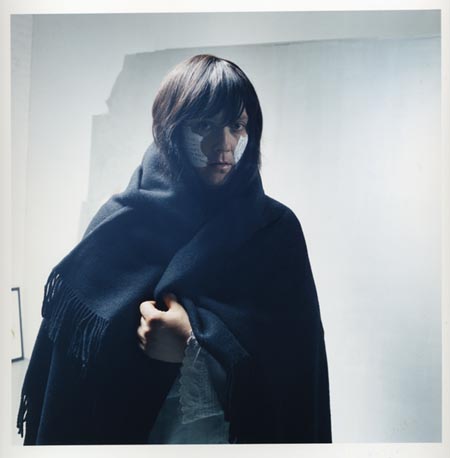 Antony : The Voice of the New Century

Shattering sweetness(1)
" De la douceur, de la douceur, de la douceur ! " claimed Verlaine(2) . Nowadays , this claim is still audacious. It is not easy to root this sweetness out of this pervading world. Too often devoted to virile assaults, rock music either neglects it or gives it away as a parenthesis between two electric outbursts. But Antony knows how to gather it and hand it down. The device is simple : the voice, a delicate and long-lasting treasure, is set at the centre. All around it, strings which seem to marry it, a piano Antony plays on, and sober brass, muffled rhythmics accompany it and put it to emotional use.
The compelling bewitchment of this outstanding voice is connected to its conflicting features : in Antony's case, sweetness is painfully wrenched out. Slaughtered loves, masochism, fondness, pangs, relief. In the impulse of the voice rising to tell of Evil (misfortune, misery, melancholy), sweetness occurs like a paradoxical fruit. All things considered, against any planned prettiness, the voice even abounds, as if it was forever. The desolation chant turns into a consolation chant of which the strange beauty holds to the subtle slippage of sorrow into sweetness. This mutation is the bewildering point when listening to Antony : the sweetness becomes embodied with pain which is its condition, it flows through the complaint.
The voice of this sweetness-messenger moves because it vibrates. Vibrato, vibrations, spins, spirals of a song which coils up and uncoils and sensuously covers everything, carrying away with itself any reluctance and resistance. Antony would bring tears to one's eyes just in reading the phone book. The vibration of the voice catches the ear, enthralls the soul, and makes the heart bleed. Both ethereal and enveloping, mighty and muffled, the voice deepens in the low registers, moves forward with the warm black strength of a blues singer, or it rises and hovers in the high notes, reaching the heights of a soprano. In this voice are succeeding or melting the swing of Otis Redding and the skill of Maria Callas. For all that, half-way between black ease and white lightness, Antony's voice sets its own limits, and finds its own line of conduct and its particular lifestyle.
The soaring
Childhood in England then in the Netherlands, after crossing the Atlantic Ocean, Californian youth : Antony skims roughly over his destiny, meets other solitudes without finding much echo of his own. After that, in 1990, he leaves for New York. Here, in this other America, many things are set up. The bird finds his eccentric nest. With the Blacklips Company he founded in 1992, he performs in cabaret shows in the Pyramid Club. He tests his own seductions and frailties, sketches the draft of his actual existence. He imagines for himself other lives, half-way between Fiona Blues and Justin Grey. He pursues for long those afterhours experiences, haunting the nights of New York buzzing with underground insomnia. But gradually he turns only to music. All his art feels the effects of this touch of decadent cabaret implying a close complicity with the audience. Still now, he draws from this connivance when he started many a reason to be the singer he has become.
Anyway, little by little, his voice is heard, adopted, applauded then, in 1998, recorded with the Johnsons (3) . At least, Antony accedes. Through this musical maieutics, he actually becomes his own child or, rather, the double child of his own songs, both their son and daughter. He merely brings forth and is born, he's merely born and reborn as soon as he sings. Voice is what perpetually gives him life. Each struck up song has the power of spontaneous generation. Antony becomes himself as his vocal art brings him to the sweetness of being gloomy. Listening to him is to attend, delighted, to the enchantment of this repeated birth.
Antony's songs strongly suggest soaring. In them, the ideal furiously thwarts the dead ends of mundane life. " I am a bird girl now ", he sings : it's not a provocation, it's his true life, his existence as such (as long as one hears it), he claims about and demands with all his faith. The sky of Antony appears like an artistic counterproposal to death and intolerance that spreads around their empire.
He builds for himself a personal mythology which restores the innocence of desire. Here, three minutes' tunes echo like as many little Songs of Innocence, to weave a lofting universe rich with resources and solace, where "a book that all may read"(4) is gradually elaborated. For Antony doesn't want to be alone. As though he glides in this purified sky he created merely thanks to his soaring desire, he's one of those who invite and share. There's room in this open and accessible paradise, provided you find your own wings and know how to spread them. We will meet all kind of creatures, still alive or coming back from the kingdom of Death, all of them mixed with elation and confidence : among them, Marc Almond is speeding away on his bike ; Leigh Bowery is dressing Nina Simone in front of Joey Arias playing tarot with Klaus Nomi and Jimmy Scott ; Julia Yasuda is solving equations on an apple-green board ; a little further Diamanda Galas is yelling joyful blasphemies to hilarious Boy George's ears and, while Joe's Pub's barman is conversing with Laurie Anderson and Lotte Lenya, passers-by can see the CocoRosie playing the fool while cooking pancakes for everyone ; Charles Atlas is shooting the scene, but Kathleen Ferrier, too busy to tell to David Tibet stories of dead children, pays no attention. All this people is steeped in a mood of still effervescence. Thus, Antony's dreamt life goes by in an unlikely and dazzling sky. Under such a firmament, he creates his own (golden) legend and makes an appointment.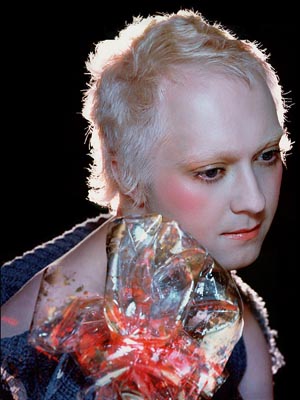 The temptation of Antony
Antony H. is a singer of intimacy. His confidences show some high expectations where the most haunting fantasies are mixing. He tells how he fell in love with a dead boy, or maybe was it a girl, whom he never mourned. Often, decadence rises to the surface of this labile universe where one preferably falls in love with anyone threatened of falling and dying prematurely. Dead well before their time, such figures as Candy Darling, Wharol's egerie who longed for becoming another one (5) , Marsha F. Johnson, queen of the S.T.A.R. (6) found drowned in a "river of sorrow"(7) , or else Divine, "Mother of America", all of them who dreamt of becoming women, have now reached Antony's innermost paradise where they shine in a select spot.
This troop of dead people doesn't deceive. The loving and memorial militancy is here the sign of gay fidelity. Several songs of Antony pay overdone homage to persons whose loss he mourns, and the death he sings is then washed of all horror. The voice seals a bound of eternal affection with the departed (the icons, those near and loved), watches over the dead, lulls them once again, as one does a child. With sweetness, always ! Keeper of utopia, Antony becomes the animator of these lost lives.
He himself potters about his emotional universe from the wounds of sexual identity. On such a field of ruins, he utters words from beyond, sweetens his grief in the fervour of a song sublimating physical violence, frustrations and regrets : " From the corpses flowers grow ". He always operates this ambiguous stitching between beauty and death, between longing for difference and ponderousness of any metamorphosis. When he covers Lou Reed's standard, Perfect Day, he creates a languid recitative. " You made me forget myself. / I wish I was someone else, / Someone good " Of course happiness isn't yet given, it's a matter of successful metamorphosis. But it's not easy to invert values and identities, to move between feminine and masculine, good and evil, to leave the immobility of the limbo to give a hint of the movement of being born for oneself : " What can I do when the bird's got to die ? "
His songs hesitating between sentimental ritornello and religious chant are haunted with this perpetual longing for transformation, but the art of Antony is a full matter of ceremony because he combines a sense of homage and a taste of finery. This regular of the beyond is an appearances-lover. He's fond of dressing-up. Paradise and parade, elegy, processions and make-up. Antony sings of the dead, rescues them from oblivion, and carries them to some warm place, sheltered in his musical universe but, if he sometimes goes on stage soberly dressed, every now and then he struts wearing veil, muslin, wig, furbelows. Through this tender play, he displays his longing of being aside all women and, in his way, he's radiant with this temptation.
All those provocations are smiles and caresses, but never slaps. From one song to another, he jests with the audience but still, he may as much hide himself, slip forever out of the stage, would he be led to exit. Splenetic coaxer, moonlike Pierrot or sweet diva, Antony is a shy exhibitionist. As for now, stage remains the favourite place for his extravagancies. There, he keeps fleeing the too real George W. Bush's America. With the ramblings of song and show, he sounds the becoming-another-one, tirelessly reinventing himself.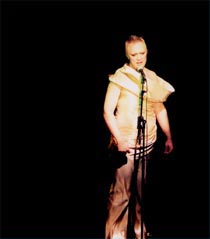 Beginning of the century
After Whigstock, two long appearances in Steve Buscemi's Animal Factory and Sébastien Liftshitz's Wild Side movies establish him as a secluded singer, settled in an exclusively male territory yet where sexual identity gets troubled by the lack (an American jail) or ambivalence (a Parisian transvestites café). Thus, Antony's scenic performances on screen constitute epiphanies which come under what Baudelaire called le beau bizarre.
Broad-shouldered angel, afraid of being scolded because he dares talking of his temptations, and yet uttering them, Antony improves the beauty of sin and the taste for tears. He's not averse to melodrama's smoothness. As for now, he achieved two perfect masterpieces, I fell in love with a dead boy and, with lyrics by Edgar Poe, The Lake (8) . Bird girl may be the third to come. Now he has to move on the way he boldly marked out for himself. It's a narrow path, a deserted itinerary. Oxymoron-man, he's the unequalled. He endlessly looks out for his sisters. Whether he calls for help or ask for forgiveness, whether he tells his livid litanies or his love songs, he'll need bravery and power to generate grief and relief, magnificence and joy blossoms, for a long time.
With the manhandled ingenuousness of one who discovers for the first time the flavour of misdeeds and the extent of disaster, this uncommon soul singer breaks out of here below and rises far enough to speak with the stars. He shines very high, but this over-there, this over-far is very close, near each of us, within ear's reach. Denying any ego, Antony is a creature with a rounded attraction, melancholy and willing to share – with other artists as much as with audience. Listening to him is sufficient to feel many whole lives flowing in his voice. On stage, from his deepest loneliness, he makes himself the unexpected link with any kind of bruised community, of hesitating humanity. Since he has such a might, this singing New Yorker isn't a star : he's simply the Voice of the new century.
- Jerome Solal
(1) . Translated from french by Thierry Gillyboeuf ; special thanks to Catherine Talichet and Joanna Neborsky. You can find the original text on la blogotheque.
(2) . " With sweetness, with sweetness, with sweetness ! ", Lassitude in Poèmes saturniens.
(3) . Recorded in 1997 and 1998, the LP Antony and the Johnsons was released only in 2000, and then again in 2004 under Secretly Canadian label.
(4) . William Blake, Songs of Innocence (Introduction).
(5) . Antony performs the song Candy Says, originally performed by The Velvet Underground on Animal Serenade, the Lou Reed's Live record. Lou Reed, by a matter a fact, sponsors Antony's career, carrying him on his 2003 long tour, and accompanying him – guitar and vocals – on Fistful of Love. Otherwise, Antony choosed photographs Peter Hujar made of Candy Darling on her deathbed for the covers of his last records, The Lake and I am a bird now.
(6) . Street Transvestites Action Revolutionaries.
(7) . He was found drowned in the Hudson River, on July 6 th 1992 night, a few days after New York's Gay Pride. The band accompanying Antony since 1995 got its name from him.
(8) . Particularly, the very nice live 2002 version in London on the EP realized with Current 93, Live at St. Olave's, featuring on the best of, The Golden Apples of the sun, prepared by Devendra Banhart, in 2004, for Arthur magazine.
/jan 15th 2005/