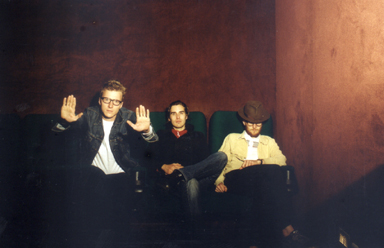 Valina
march 2003 - email interview by SEB WOOd
This is an interesting e-mail interview with Anatol from Valina. This might make you discover a good band 
folks… and don't miss them live, they are going to tour Europe again fall 2003
So the story goes backwards for a change…












SWd: Thanks for answering quickly…












Anatol: Hello ! Here are the answers for the interview that I, by the way, really enjoyed. Thanks for the 
questions. We go on Europe tour again in the end of the year. Together with Sicbay from Minneapolis. They 
are amazing. There are members of Dazzling Killmen and Colossamite in the band…



ītil soon. all the best






 


SWd: Hello Anatol, here are the questions, sorry for the delay...
- Can You introduce yourself and make a brief history of Valina ??












Anatol: I am Anatol doing the guitar, trumpet and vocals in the Austrian band Valina. We are a Linz-based 
trio that exists since 1996.

We released our first 7inch in 96 on our own and started to get some shows in Europe right after. Did a 
split 7inch the following year. More shows all over - including a few with old heroes like Don Caballero, Us 
Maple, The Make Up, Unwound.......

In the year 99 we got in contact with the people of Conspiracy Records in Belgium and Trost in Austria who 
both draw attention on us. We became friends. 2000 - our first long player came out on this two labels. 
Through this record we were able to get in contact with a lot of people and to do 2 tours outside of Austria.






So far - nothing outstanding for an underground band.






2001 we played with Shellac in Munich and got to know Steve Albini who recorded 10 months later our 
second album "vagabond" in Chicago.






First shows in the US. 5 weeks through all Europe in March 2003.






No stress with the future.






A few different plans.






That are the simple facts.






In general we always worked quite serious on our music and had control about all concerns regarding our 
band-world. We never wanted to push the band in an unnatural way or see the band in a popular context. 
Was it the simple punk feeling in my teenager years - the older I got the more I was conscious on how 
important it really is and how much sense it makes to me to live a life closely connected to the cultural 
independent scene. Thatīs what my two pals do. Both study, but put their energy into something else. 
Claus, our drummer is kinda radio activist and established together with






other people indie media austria. He studying politics right now. The bassplayer Husbert is working at the 
Trost Label since weīve put out our first record there. I am working at the underground center Kapu here 
in Linz which has also been the "heart" of all Valina activities and office work yet.






SWd - When exactly was 'Vagabond' released ??












Well, Vagabond was supposed to be released in November 2002. But as we were unhappy with the first back 
cover print, the release date was delayed to december in Austria and February 2003 for the international sale.



SWd - People keep comparing Valina to Shellac but I think your music is much more subdued. By the way, 
I think everyone expected a harsch, sharp sound because Albini recorded it but in fact it's quite the opposite,
why did you want a cleaner sound ??












Anatol: Sometimes people are in the nice position that allows them to do what they wanna do. But although 
theyīve done what they wanted to do they sometimes realize later that there would have been other ways
to do it as well! Everything takes its time, you understand. We are still new. We are small!






Concerning the sound of the record: Thatīs what Valina wanted to sound like on nine beautiful days in 
summer 2002 at the Electrical Audio, after we have worked more than a year on the songs. Albiniīs  job was 
again...just to capture the bandsī sound while they were playing and follow their ideas at the mixdown. 
Thatīs what he did and made him and us feel comfortable with the end result. He is a Meister at this. When  
I speak about a clean sound I mean an overproduced recording that sounds unnatural because of all the 
ridiculous effects on it. But I guess thatīs the obvious opposite of what our record sounds like. In fact we 
are not a very much distorted band at all, but I would say that the record sounds sharp.





 






SWd - In my opinion, Valina can definitely be categorized as math rock (because of the songs structure) 
but your music is much more lively and catchy than the usual math rock song. Is it the influence of indie 
music ??












Honestly, it's hard for me to undertsand the question. I am bad at all those music categories. A 
Neanderthaler ! I donīt even really know what emo core is or not is.
I once read that bands like Don Cab, Us Maple  etc. are math rock. Well, fine. By the way,...a few years 
before Us MAple has already been Now Wave...... Iīm sorry. I really donīt spend any time thinking about 
things like that. People announced us as Post-Hardcore, Math-Pop, Indie-Rock... Honestly, what shall I think 
about all that? Maybe we are  "Post-the next big thing" !?






When you speak about Indie-music I can tell you that it was always my opinion that  indie has more to do 
with the circumstances of playing music than with the music itself. By the way I feel influenced by a lot of 
music I am listening to at home. Jazz, Ramones, Elvis, Low, Japanese Avant-garde, Fugazi, Anti Pop 
Consortium and Tschaikovski…












SWd - Can you talk about your label and your hometown, LInz, Austria >> is there a musical scene there ??












Anatol: Well, the Trost label is in Vienna: Itīs the best known indie label and biggest indie distribution here in 
Austria. Konstantin and 3-5 helping hands are running it. They are distributing labels like Ipecac, Southern, 
Touch & Go, Dischord, Kill Rock Stars, etc. Jazz-Records, HipHop and electronic music. They also opened a 
record store recently.






Conspiracy is based in Antwerp / Belgium. They have put out records from Tribes of Neurot (Neurosis Side 
Project), Quetzal and other guitar oriented bands. They are also known as being Hydra Head Europe.
Both started some years ago and developed step by step. I feel quite well in their hands as I love the idea 
of growing together.






The musical underground scene in Linz has a long tradition, but always changed a lot. The center of this scene
has always been the Kapu that exists now since 18 years. Since from the beginning on the Kapu was well 
connected to the international scene. Giants like Fugazi, Melvins, Nirvana, NoMeansNo etc. later Blonde 
Redhead, June of 44, US Maple, Godspeed..., Girls against Boys, etc. played the Kapu although it is very 
very small.






Being part of the international exchange helped to develop a local scene no matter what style of music. 
Target Of Demand, Stand To Fall -  in the 80s , Attwenger, Texta, Deadzibel, Seven Sioux, Strahler 80, 
Fuckhead, Valina - in the 90s and 00s.






Itīs nice to live in this town - as I think you can always find a nice spot in every shitty town in the world.





 






SWd - What is the kid on 'Vagabond' sleeve supposed to represent ?? The neck makes us think of In Utero's 
painting...

 






Anatol: It has nothing to do with a medical theme and is no tribute to Nirvana at all. If you have a second 
look at the silhouette of this character you may notice that this is the silhouette of Charlie Chaplin.
Now we could talk for hours about Chaplin who I really adore.......






But the story is:  "the red line" through the content of the "vagabond" album and some of the hidden stories 
are connected to the art and personality of Mr. Chaplin. "The Vagabond and the kid" was the title of one of 
his movies in 1916 .












SWd - I like quotes and you're right: 'I don't think it's interesting whom words or time belongs to as long as 
they mean something to someone'.
In the lyrics, you quote someone saying 'we learned more from a minute record than we ever did in school'. 
Did you think of a particular song ?? if not, did you focus on music thanks to a song or a band ??












Anatol: I fact this one lyric line is from the Bruce Springsteen song "No Surrender". But the 3minute record, 
I guess, stands for the (punk)rock song that was important for my musical socialisation years ago.






For many years the word "punk" was the tree in my life where I could put my arms around, although it was 
always hard to explain my ideas of punk to other people in the storm of the typical punk discussion, because 
my ideas had nothing to do with any klischees, but with artistic and cultural freedom. It was a nice moment 
when I realized that I simply donīt need any word, any religion anymore to get along. Goodbye punk! I 
always cared about things when I thought I better should take care about.












SWd - What is 'St-Petersburg me cannibal' about ?? It's my favourite song on the album and its title is very 
strange ! What happened in Piskajova ??












Anatol: There is this part of the history of St. Petersburg that is not very known anymore except for the 
older people in the town. In the years 1942 / 43 the Nazi troops  were outside of St.Petersburg ready to 
conquer and occupy the city. But they didnīt. They didnīt want to lose thousands of their own soldiers in 
such a big battle. So they built a circle around the city to forestall that food and other materials can get 
into the town. The communists forgot in the years before to hoard any food supplies. So people were running 
out of food very soon, they starved and died. I donīt know how many hundred thousands of people in 
St. Petersburg died of starvation.






Well, the story until here is cruel enough but the real tragedy is not one number of dead people in the end 
but the individual history of every single human inside the town during this time. And one big part of the 
whole story got public just a few years ago when the ex-KGB opened his secret archives:






.....people starved for months in St. Petersburg....






And after there were no house animals , no cats, no dogs, no rats running






around in the streets anymore, people were forced to eat each other. Thousands became cannibals !!!!!!!!!!
Imagine this situation: People are so down that they force themselves to eat other people (who maybe just 
died of starvation) just to survive.

  

But if they survived most of them got caught right after from the police 
and got sentenced to death because of cannibalism. In the end - The highlight of ridicule is that the Soviets 
(the same who killed the cannibals) honoured the survivors of St.Petersburg after the war because of their 
will to resist against the Nazis and their support for the communist regime. Fuck 'em all ! People just wanted 
to live......................






Well, thatīs the background of this song.






A question of moral is not always a question of moral.

 






SWd - I like very much your statement about mp3s (see review). Are you a manic record collector or is it 
just the attitude of many people regarding the purchase of cds or both that make you write it ??












Anatol: Look, I am not opposed to the format mp3. I donīt even have a problem when people burn CDs, 
download whole records. I just donīt think itīs a very smart way to listen to music. I prefer the vinyl versions.






Well, I wouldnīt call myself a record collector. I am a fan of a lot of peopleīs music. So I buy their records to 
be able to listen to their music at home.












SWd - What's a 'band out of the harbour' ??












Anatol: We rehearse in the small but nice harbour in Linz.












SWd Ok, now here is the usual only angels questionnaire...






1) was you ever bit by a dead bee ??












I am sure you know the situation when you visit your old grandparents once in 3 years. And every time you 
see them they just remember 2 or 3 stories from a time when you were a child, because they are old.






My grandparentsī story goes like: Anatol, do you remember when your older cousin told you to touch the 
dead bee. You didnīt want to, but he told you that you donīt have to be afraid of a dead bee. So little 
Anatol wasnīt afraid for two seconds. Three seconds later he already became the joke for the next 20 years.












2) How do you look like in a tuxedo ??












Like the standard idiot who missed the right way to Tuxedo.






3) What's your favourite chord ??





 






The one I canīt play in the beginning. And when I got it, guitar players tell me that this is not a right chord!












4) What's your favourite pick-up line ??
My band sounds like Shellac.






5) Who's kicking out the jams ??






The Rolling Stone Journalist who thinks The Strokes is the one and only true RockīNīRoll Band. The same 
who is asking Phil Collins about the future sound of music. The same who is afraid that Al-Jazeera is a 
dangerous concurrent Music-Television Sender in Southeast-China. The same who likes british breakfast. 
The same who thinks Bill Clinton is a REAL revolutionist. The same who thinks Valina sounds like Shellac.






The same who thinks................humour is always kicking out the jams.

 






6) Since when America has gone wrong ??












Either since a geological wonder made it not to the "dirty beach" of Honolulu......or since humans behave like 
humans that treat other humans like shit just to feel like a human.












7) Which Hollywood star would you most like to date (dead or alive) ??












Sylvia Kristel. I donīt even know if people remember her. She was The "Emanuelle" in this 70īs soft sex film 
series and I guess she is seriously responsible for the picture of woman in my head that I feel attracted to.

No joke. Right now I would ask her what it was like for her to get no serious role in a serious movie anymore 
after millions of teenagers had seen her naked in Emanuelle and didnīt accept any other characters than the 
naked one. Life can be hard, sometimes.












8) What freaks the hell out of you ??






In general: When someone fucks around with a specific thing  I have put a lot of energy into or I take care 
about a lot......






9)What's your favourite curse word ??






Just another brother






From an other mother






10) What question would you ask in this list ??






What the Hippie in the Techno Club asks for ?
/may 15th 2003/