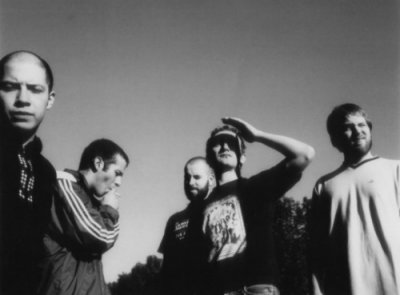 Mogwai
feb 2nd 2004 - Salle des Fetes de Ramonville - Toulouse, Fr
interview with Dominic Aitchison (bass) by SEB WOOd (moral support by Barbara H)

SWd: Hi, how are you doing ?? I heard someone has problems with his tooth ??
Dominic: I'm ok thanks. Yes, our drummer has a tooth infection. He had to go to the dentist. He thought he was gonna get his teeth filled but it turns out that it's just an infection. he's on antibiotics as well so the next week or two, he'll be disappointed if he cannot drink anymore. (laughs).
SWd: Is he able to play ??
Dominic: yeah he'll be fine. It's not that bad.
SWd: I've heard that you've inserted the Cubase files of 'Happy songs or happy people' on the cd. Why did you do this ??
Dominic: I just thought it would be a good idea. It's just something fun to do. Some people put stuff like their videos on their cds. We didn't have any videos… I don't know. It's just so that people mess about with the music.
SWd: Do you know is someone used the files to make a song ??
Dominic: I have absolutely no idea. People thought it was a competition. They kept asking if they could send their remixes in but there was no competition whatsoever. It was just for people to mess about and have fun with.
SWd: Why did you decide to cover the Hebrew hymn 'My Father My King' ??
Dominic: It was the producer's idea. Arthur Baker. He was making an album of spiritual music and he asked if we could do a version of this song. Basically it was his idea. He approached us to do that. We recorded twice with him but we were not really happy with it so we did it one more time with Steve Albini and it went ok. But it was his idea and I'd like to say that and to give him credit for it.
SWd: Have you got a special relation to religion ?? There is 'Mogwaï fear Satan', 'My father my king'…
Dominic: Oh no. None of us are religious. Me, John and Barry, we're all brought catholic but we're not practising Catholics anymore. I used to have the jitters a lot. The name 'Mogwaï fear Satan' comes from the fact that when I was younger I used to have the jitters about the Devil quite a lot but I don't really get them anymore so…
SWd: You could have covered a blues song for the Scorsese "Blues" series…
Dominic: They did not ask us but we could try once…
SWd: How is Rock Action doing right now??
Dominic: The label's goin' ok at the moment. We don't have as much money as we used to but we're self-sufficient now so it's going ok. It's almost like a real label.
SWd: I've read that you agreed to let Levi's use 'Summer' for one of their commercials to get money for the label. Is that a fact ??
Dominic: Yeah that was the plan but it didn't work out like we expected. We thought we were to release the song and we didn't so and we ended up getting absolutely not very much… But the idea was to get money from it towards the label.
SWd: Are there any forthcoming releases ??
Dominic: We've got a new single by Part Chimp coming out. We've also got this Japanese band called Envy, their album 'A dead sinking story' was out in the autumn. We'll also release their previous album which is not available in UK & Europe.
SWd: You wanted to release a Guns'n'roses cover ep. Are you going to do it ??
Dominic: We were all thinking to do it a few years ago and then we just realized that…
SWd: Have you dropped the idea ??
Dominic Yeah it won't happen. It's not that we think it's a horrible idea. It's just we're really lazy and it probably would not be very good. We're not very good at doin' covers. It became pointless.
SWd: What songs did you want to cover ??
Dominic: Some guys in the band are really big Guns'n'roses fans. We did a cover of 'Don't cry' which was very bad. We've tried to play 'Patience' 'cos Martin is quite fond of that song and that song 'Civil War'…
SWd: Did you whistle ??
Dominic (laughing): We never got to that stage thankfully. I can't remember the other ones…
SWd: Why did you choose to add laptops on stage ??
Dominic: Because when we were recording we'd start to use computers in the studio more and write stuff we couldn't do live. Two tunes of the new record have to be sequenced or else we just can't do them live. It was to be able to play them live.
SWd: Was it difficult to adapt yourselves to laptops ??
Dominic: It's just difficult to get it to work. I mean, recent technologies made things easier but it's really temperamental. It's quite a complicated process to try to make it work. It takes a lot of time as well. It's not as easy as you think it would be. The computers crash all the time as well, which is quite awkward. The computers just crash quite a lot like half-way through the songs or just before that. It's not an emotional live thing but it does the job.
SWd: Mogwaï is one of the loudest bands around. Aren't you afraid of becoming deaf at some point like Pete Townsend for example ??
Dominic: We've all started to wear earplugs now and we're also using monitors so we can still hear stuff. We won't go deaf. We all got a tendency to hearing noise, ears kind of deteriorated. So we all realized that we have to take precautions but we're not half as loud as we used to be anymore. We always wanted to be one of the loudest live bands and we used to really enjoy it. We just realized after a while that when we used to be stupidly loud, a lot of people just really didn't enjoy it. I find it quite painful. I suppose when music gets past a certain volume, eh you're annoying and you can pack things up clearly… We just realized that it was actually quite detrimental being as loud as we were so we're not as loud anymore.
SWd: That's a big change because all of you guys were saying in interviews that you needed to play really loud…
Dominic: Well we're still loud but not as loud as we used to be. When you go and see a band and you still feel your clothes shake and you're still able to feel the kick drum in your chest. Plus we had problems touring Europe with db limits. In some places it's just so stupidly quiet, which is quite hard to work with especially for a band like us because we've got changes from very quiet to very loud. Our very loud has to be at a reasonable level because then when we're very quiet nobody can hear us. It's quite hard to deal with that. Anyway we're not allowed to be as loud as we used to be but we're still loud.
SWd: Do you recommend a special earplug brand ??
Dominic (laughing): I've not found one that is really good. Any earplug will do. If you can't get any, just roll up some tissue. It'll do it just as well….
SWd: Thank you.
Dominic: thank you.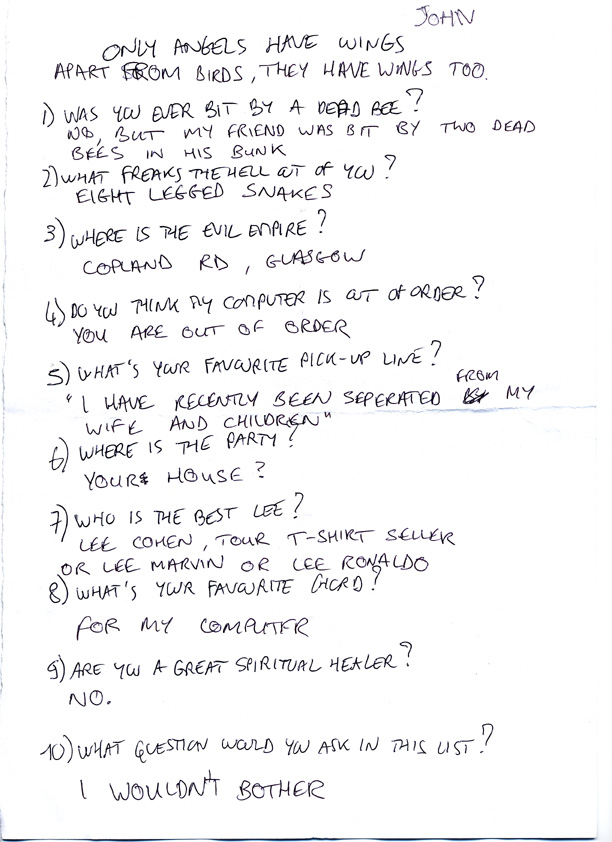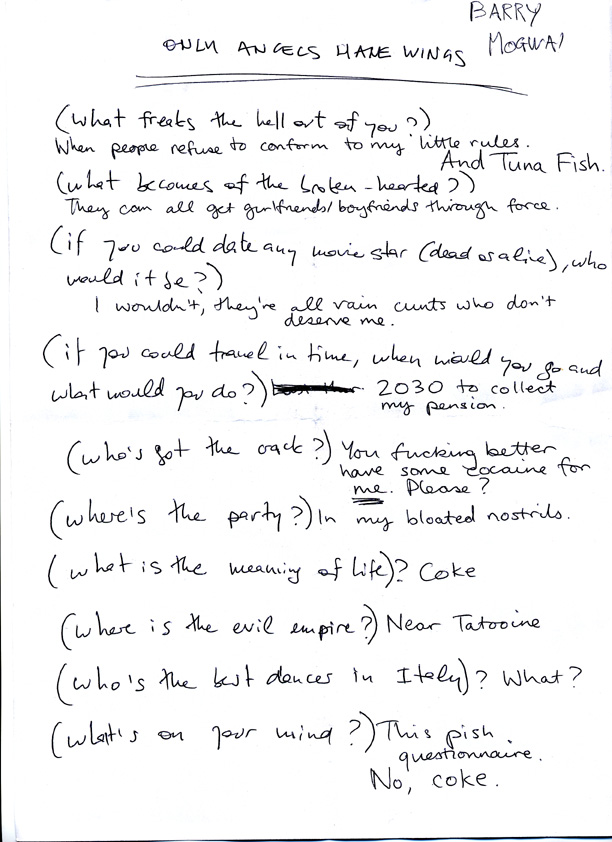 /feb 15th 2004/