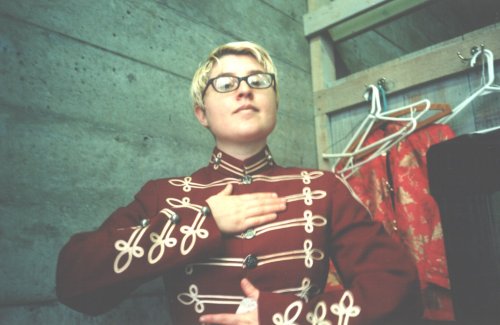 Mirah
feb 26th 2004 - e-mail interview by Barbara H
How are you ??

Is that a question?

Did you have a nice time during the european tour ?

It was stellar. I loved driving over the alps, I loved being safely ferried around by Jacopo, I loved walking around in all the different towns with Emily, I loved meeting so many sweet people, and so many of the shows were really stupendous.

Can you tell us about "Cmon Miracle" ?

I think it's pretty good. I hope people like it. That always helps though honestly it's not my primary goal. A lot of the songs are pretty precious to me and in some ways it's such a risk to make such a public display out of things so precious but I've gotten in the habit. I think it's less 'big' than my other two albums, it's more slow and steady. That's how I always grew though, never a growth spurt, just a few centimeters here, a few centimeters there, pretty much flat chested til I was 17. I always imagined that maybe i would end up being a very very big and tall person but that i wouldn't get all the way to size til i was almost dead, that I'd just keep growing my whole life.
Where does the South American feeling come from ?
Two of the songs were recorded with my longtime friend and co-conspirator Bryce Panic in Buenos Aires, Argentina, the country he now calls home. I was there for a visit this past winter and we got to working on songs and recordings and rooftop sunbathing.

Can you explain the concept behind "Songs from the black mountain" ?

It's a document project, an audio zine of everything that we made during that chosen month. Pretty straightforward, nothing fancy.

Phil Elvrum has produced your two first abums, how is it like to work with him ?

Sometimes I make the oatmeal while he makes the weird drum beats. Sometimes he goes for coffee while i figure out a part. He usually pushes the buttons when we're together. It's very mellow, except when I get stressed out, but then I get over it and get mellow again.

You appeared on Microphones albums in the past, do you plan on playing/singing on Mount Eerie recordings ?

I never planned on being on Microphones recordings, I just happened to be walking through the studio. I plan on remaining friends with Phil and being a part of his life, so that would make possible any number of circumstances.

Apart from the release of "C'mon Miracle", what are your next plans ?

I recorded another record as well, a collaboration with The Black Cat Orchestra from Seattle, called 'to all we stretch the open arm'. It's a mostly covers album and it will be out on yo yo recordings sometime this March I believe. I'll be doing some touring in support of those and elsewise I've got some plans to settle down when I can, stay home for once, make dinners with my girlfriend, play music with my friends, learn some new things.

Stupid questions:

"Was you ever bit by a dead bee ?"

Not before it died

if you could date any movie star (dead or alive) who would it be ?

It's so embarrasing and she's not even a movie star exactly but i've always imagined sailing into the sunset with Bjork. I shouldn't even tell you that.

what freaks the hell out of you ?

George W. Bush

where's the party ??

In my nervous system

what's your favourite pick up line ??

I couldn't say, it's too dirty

What becomes of the broken hearted ?

They figure it out
/mar 15th 2004/