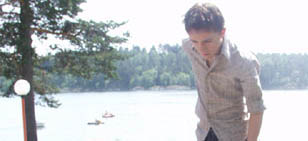 Sondre Lerche
e-mail interview - feb 8th 2002
by Barbara H
how are you?
I am fine. A bit koko, but that's because I've been in the studio all day with my music friends from Bergen.
could you introduce yourself ?
I work hard. Very hard. I try to write the best songs I have in me. And the best songs so far, are gathered together on my "Faces Down" debut album. I like rich harmonies, swinging lyrics and panorama arrangements.
your album contains some of the best pop songs we've heard in a while, do you have a special secret?
Ohhh, thank you so much. I'm glad to hear. I try to make hard things sound easy, and not to choose the easiest solutions to a song. Maybe that's my secret? Don't tell anyone.
when did you start playing music?
At minus 1 year, under strange circumstances.
what were your first favourite records ?
My first favourite: "Scoundre Days" by A-ha. My last favourite: "Insignificance" by Jim OŽRourke.
Your album was released a week ago in France, are you planning on playing here soon?
IŽll be there as soon as possible. Maybe I will show up and play a little at some festivals during this year...
Northern European countries are a huge source of great pop singers/bands (Kings of Convenience, Stina Nordenstam, Royksopp...) do you have a theory/explanation about this ?
We are lonely, and must earn respect through our art -the music. That's why we put so much effort into making it sound as unique and sweet as possible.
do you plan on releasing "Faces Down" in the UK soon?
In springtime perhaps.
I read on your online diary that you were already thinking about your next record, do you already know how it is going to sound ?
My next collection of songs will be more minimalist and intimate, like modern chamber-music.
now here are some sillyyyyy questions....
Are all Norvegian girls cute ?
All girls
boys ?
All boys believe anything
What becomes of the broken hearted ?
Mended
Favourite and worst favourite band of the moment ?
Prefab Sprout and Creed
Did you have an imaginary friend when you were young ? what was his/her name?
Morten Harket
What is your favourite memory ever ?
Dreaming my life while fainting

/pic from www.sondrelerche.com/