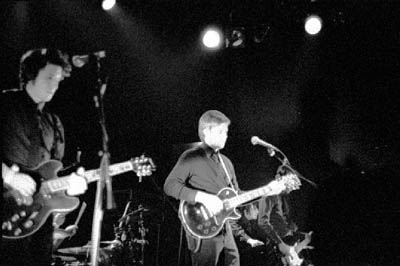 Interpol
e-mail interview with Carlos Dengler (bass guitar) - feb 8th 2002
by Barbara H and SEB WOOd
Your fukd ID ep is definitely one of the best things we've heard this year, when do you plan to release your debut lp?
Latest, Spring 02.
Your show at the 'La Route du Rock' festival was the first you played in France, and probably the biggest show you've played yet, how did it feel?
Fucking fantastic. The French audience knows how to rock.

The route was a special occasion for us, especially since it's one of the bigger events we've been involved in. We met hordes of great people including artists we admire. Everyone we dealt with was funny, intelligent and a pleasure to work around.
Did you see CHOKEBORE play at this festival ? Don't you think they're one of the coolest bands at the moment ?? (this is a pro-Chokebore site, so you'd better answer "yes darling, do you want some more lemonade ??")
We were really impressed by Chokebore. They had a tight and powerful sound and were a bunch of swell guys.
Could you tell us what 'PDA' is about?
You know. Those nifty little computer thingamabobbers? Ummm . . . . Paul?
What do you think of today's NYC rock scene ?
It's definitely an exciting place to be, especially given all the attention that is currently placed on it. It's a little weird at the same time since we're still all leading our own pathetic, horribly mundane existences, so we're all kind of like "Ummm . . . scene . . . [scratch head] . . . . duh?"

In all seriousness, there are a bunch of really good bands playing out right now, some of whom we play with on occasion. In our ideal world full of fairies, chocolatey goodness, and cinnamon toast, we're all happy for each other I suppose . . . .
How is it like to live in NYC today ?
Fucking weird. Try walking out to your deli for a sandwich to the odoriferous melange of burning chemicals, smoldering ash, and heat-degraded steel.
Vincent Gallo told us that he liked you, does this make you feel special ?
Yes. You know what they all say, whenever somebody famous likes you, you know you're something special.

Aside from that bit of indubitable logic, I'm sure we all in the band agree that Mr. Gallo is a talented man, of whose work we are all admirers, so the compliment is appreciated very much.
Pierce Brosnan did not tell us that he likes you (it might be because we have not had any interview with him...). Does that make you feel special ?
I will always think that Sean Connery was the best James Bond anyway. Tell Mr. Brosnan that he can &*%$ off for not having heard of us.
Have you decided which label would publish your next releases?
Not yet. Soon though.
Have you decided which one of you is going to become a part-time drug addict ?
I remember that being on the agenda of a certain meeting but I think I was too hungover to attend it, so I don't know the answer to that question.
Thank you very much, I wish you all the best for the future.
Thanks very much Mr. H

/pic by Anton Granik, taken at the bowery ballroom on may 28th 2002/