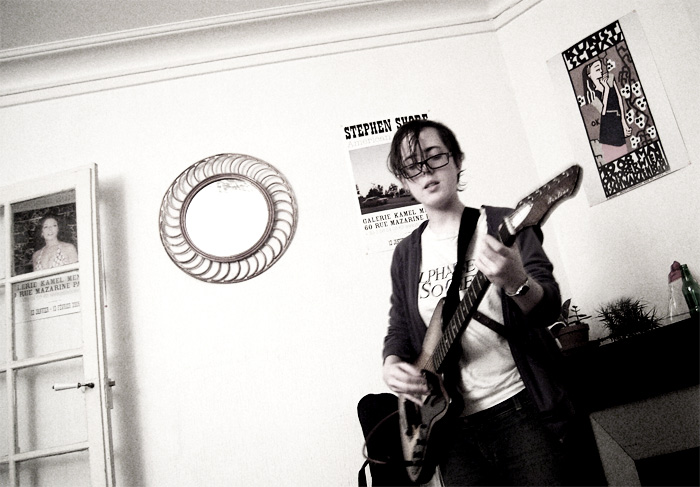 Jana Hunter
february 5th 2006
interview by Barbara H

www.janahunter.tk

Barbara H: Hi!
Jana Hunter : Hi!
BH: how are you ?
JH: I'm fine, how are you ?
BH: fine! how has the tour been going ?
JH: it's been great, the best tour i've ever done
BH: did you tour with Castanets before ?
JH: yeah one time for a week, but just singing a couple of songs
BH: Blank Unstaring Heirs of Doom is a collection of songs recorded over a very long time, why did you wait so long to release anything ?
JH: i came from a small town, i didn't know much about music and i didn't know it was possible to just kind of get somebody to release it so... and then Devendra and Andy [Banhart and Cabic who run Gnomonsongs, Jana Hunter's label] decided to put it out. I never tried, i didn't know you could put a record out, you know.
BH: the sound is very lo-fi...
JH: it was the just the equipment that i had available so i made it sound as best as i could but still sounded like crap, but eventually i came to like that lo-fi sound
BH: how did you meet Devendra Banhart?
JH: we played a show together in Texas a long time ago
BH: how is Texas, as far as music is concerned ?
JH: it's great, it's got a great history of music, it's got a great blues musicians, it's got Willie Nelson and Daniel Johnston and the 13th Floor Elevators and even now, right now, there are so many good rock bands, metal bands, folk musicians. Texas is great place for music, psychedelic music had a great rebirth in Texas.
BH: The songs on the record were written a long time ago i guess, do you have enough songs ready for an other album ?
JH: I have other songs, i guess i have enough other songs that i could release on another record but i don't like them anymore, so... i've written a few songs recently that i think will be part of another record
BH: so, your album is a kind of like a best of all the songs you had in stock when you collected them
JH: yeah they're my favourite, probably not even the best, but they're my favourite
BH: so the next album will be new songs
JH: yeah
BH: ok... thank you!
JH: thank you!
/february 2006/