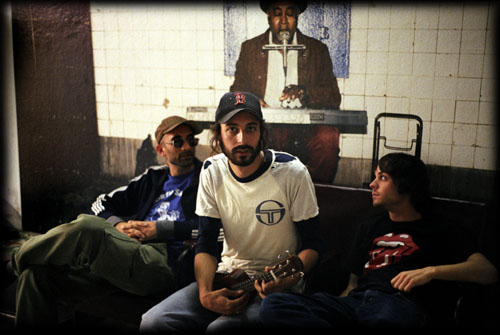 Herman Düne

jan 2004 - E-mail interview with Andre Herman Dune by SEB WOOd.

SWd: Why did you choose to release two albums at the same time ?? Are they so different from one another in your opinion ?? To be honest I could only listen to Mas Cambios for the moment… so if you want to say something specific about the other album go for it…
AHD: we didn't choose, it just happened this way. we don't have an exclusive contract with any label, and it's important to us.
Mas cambios is the record of a three month party in Brooklyn, NY with lots of guests. it was also a challenge to record it under conditions you wouldn't want to even try to imagine whereas mash concrete metal mushroom is more like a regular three piece band album with songs we felt we had to record cause they were there waiting. Except for the one song i recorded backstage in amsterdam with Julie (Doiron) it is a studio album. It was recorded quickly but on our own guitars and amps and drums. i like it a lot. i was really sad that the track listing came out wrong.
SWd: Mas cambios seems to be an ironic title because in my opinion your music hasn't particularly changed from your previous albums. The choice of the Spanish language could be granted to the fact that nothing ever changes that much in Spain…. So is it an ironic choice ??
AHD: It feels like we didn't really choose the title. We were staying in a Spanish neighbourhood of Brooklyn and it was really hard to make one's way to town, mostly because of the construction work on Stillwell avenue. So they had posters everywhere warning people about more and more changes in the schedules. Nothing in the music changed, but mas cambios makes sense, it's a good sounding name. And you could think it makes a difference that so many people are singing on it...
SWd: The only significant change I've heard is the appearance of a choir. In this sense, Mas Cambios has a country, bluesy spirit not because it is sadder than your previous albums but thanks to this choir. How do you feel about that ??
AHD: it is fucking awesome
SWd: What was recording Mas Cambios in NYC like ? Can you introduce your guests ?
AHD: Mike Rechner is the best rock and roll songwriter of all times. Doug Black can make twelve men have a simultaneous orgasm while playing music. Diane Cluck makes a great ginger tea. Turner Cody is our son. Spencer Chakedis will just drive anybody to the limits of whatever. Laura Hoch had sex with Justin Timberlake but he doesn't know. Jack Lewis made his brother famous. g. Lucas crane is making the music of the twenty second century right now. i'm sure i'm forgetting people and i'm gonna feel bad about it. please remind me (i don't listen to that shit, to be honest)
SWd: To my mind, 'My friends kill my folks" is the stand-out song. What does it deal with ??
AHD: i kind of like it better when people don't know what it's about. The line about the mirror you break is pretty heavy handed. The main topic is still vegetarianism.
SWd: Was 'Everybody dies in August' inspired by the scorching heat from which everybody suffered in France late summer ??
AHD: Not really. but a lot of my old relatives died while i was sunbathing in Sweden. August is also the time for governments to take decisions nobody will give a shit about, like killing thousands of people. In the song a bug is dying and somebody is being forgotten about, and reminded of through the phone line...
SWd: HD is one of the only bands enjoying namedropping and you seem to use this device more and more in order to depict feelings, am I right ??
AHD: Not on purpose but i guess it happened. We've lost touch with the real world, sort of.
SWd: Amongst the name you mention there is Yo La Tengo ?? Have you met them in Hoboken or are you just moved by their music ??
AHD: Did we explicitly mention yo la tengo? we met them in Hoboken but i'm not sure they would remember meeting us... i really like "night falls on hoboken", and i really like it when night falls on Hoboken (seen from the west village)
SWd: You keep on referring to Daniel Johnston. 'You stepped on sticky fingers' seems to be dedicated to him, its chorus being sang in his typical way. What do you think of his album with Mark Linkous from Sparklehorse ?? Have you met him ?? His lo-fi attitude seems to have had a great influence on both of you, right ??
AHD: Ask my brother. i think dee dee is great, much better than the Beatles, but i don't consider him an influence.
SWd: I'm still waiting for your brother's answers !! People often say that you've been highly influenced by Will Oldham. Laid-back ballads such as 'Winners Lose' convey some bluesy charm reminiscent of Palace Brothers for example. Your songs have some sort of urban casualness which makes them differ from Palace. Do you think there is an influence of city life in your songs ??
AHD: Will Oldham is an amazing songwriter but i don't see how he could have an influence on anyone. His music is very good but really not original. There's nothing to copy but the quality of it. Cities have had a big influence on us but then again nature too.

SWd: Stupid questions:

What's your favourite chord ??
mine is G minor
my brother's is probably Gmajor but i can't speak for him
Neman likes D
Where is the party ??
leeds, england
Where is the ideal crash ??
Greenland
Who is the best Lee ??
Bruce
Favourite band of the moment ??
The Wave Pictures
What's your favourite metro station ??
Morgan Avenue
What is the more convenient way to shave ??
with a mirror in the shower
Who is free-wheelin' ??
you are
What question would you ask in this list ??
????????
SWd: Thanks.
AHD: Thanks.
/feb 1st 2003/