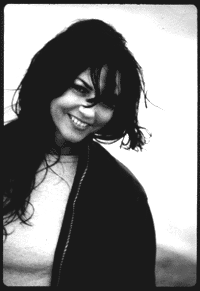 interview with Lisa Germano by SEB WOOd
may 2003 - Théatre Barbey, Bordeaux, FR

Lisa Germano is one of these persons who like to talk about their music, about their life, she never fails to be self-critical and self-mocking (see her autobiography in which she says she was kicked out of the cheerleaders because she did not smile enough: www.lisagermano.com) so the interview actually lasted about ten minutes more than what I expected. Unfortunately, she did not answer our usual stupid questionnaire because she had not much time. 'I don't have much time and I'm always talking too much so that could have been funny but…' she said in an apologizing tone…
I had a few problems with the md recorder I borrowed. It's just one or two sentences here and there which were cut but don't you be disappointed, almost everything was recorded and the interview is extensive and really interesting… When a sentence is missing there is this sign (000). I opted to type what she said and not change her words: she often articulates her thoughts in direct speech, which makes the interview really natural…
SWd : Hello, how are you ??
Lisa Germano : Hello, Bonjour, I'm good.
Swd: Can we talk about the last album and then about the others ??
LG: Sure.
SWd: What was recording Lullaby for Liquid Pig like ?? I guess it was pretty different than the other ones…
LG: Yeah, it was very different than the past. I made it the same way I made Geek the Girl, which is I recorded everything on the Adat and the difference was Geek the Girl we pretty much mixed everything on a tiny recorder except for maybe 4 songs and we took them into the studio but this one I recorded all the basic tracks at home. It took about 2 and a half years because I wasn't making a record, I was just writing, which is what I do. Then all of a sudden 'I think I have a record, I wanna work on it' so I called a friend, Joey Waronker who has a pro tools and we took all of my tracks and put it all on the pro tools so that we could change things around or edit things and the main thing is that we could add friends.
SWd: Usually when you play with someone on a record, do you let them work on their own??
LG: I usually tell them something at first. I don't like to say too much too quick but I can tell if they're going in a very wrong direction. I don't wanna waste time when I know it's not working. It was very easy on this one, like say, my friend Johnny Marr who played on 2 songs, I just sent him the pro tools thing to England and tell him the kind of thing I was thinking about and then he did it and sent it back and it was amazing. Usually if you have the time to do it yourself like that he gave me many tracks and we put them all up. We didn't use all of them but it was so beautiful, it was so awesome to hear what he did. It's the same with my friend Neil Finn. I wanted him to do one part. I sent him the pro tools and he sent them back. It's a really cool way to work. Other friends were in Los Angeles so I just had they come to Joey's house and try some things.
SWd: I heard that you were working as a book store clerk when you were doing this…
LG: Yes, I still work there. I work there when I'm not on tour. I always have to start over as a substitute but they go through people a lot so I always end up having my job back after a while.
SWd: Is it good for you to work there ?? Is it inspirational ??
LG: Well, it's to get a little bit of a living, not much of a living but what I like is that music is this 'round' thing: you have to play, you have to experiment, to go into this world where you don't know what you're doing to find out what you're doing. It's wonderful but it's kind of dizzy. The book store is like "A-B-C-D, this book goes there and that book goes there". It's more organizational.
SWd: Does it give you a sort of balance ??
LG: Yeah, I just feel like 'I did something today'…whereas with music you may work on a song for 3 days and feel like you didn't do anything but you know you did. It's just maybe over there you know…(laughing)
SWd: Many people thought you had label problems again since you haven't released anything for 5 years ??.
LG: Well not really I knew that 4AD had to let me go. We're all friends but I just wasn't selling enough records and the Pixies were no more, dead Can Dance broke up, Belly, all the artists that made 4AD money were all gone so they had to drop people. I knew that would happen but I still wrote at home. I didn't know if I would put it into a record but once I did it I was going to put it out on the internet and this guy Tony Berg really liked it and decided to put it out on Artist Direct. (000) That's why it took more time to be released but I'm very grateful of them for putting it out.
SWd: Many people said that Lullaby For Liquid Pig is about alcohol but I think it is about isolation like most of your songs, am I right ??
LG: Oh yes, to say it's about alcohol would be putting it in a box, it's very easy to say that, it's not at all about alcohol, it's about behaviour and looking at yourself like in the middle of the night like not being able to sleep and going through a lot of things and going like 'why is this happening ??, why is this that I'm feeling so down ??' (000) It's about behaviour, the behaviour of lonely people who don't understand why they feel the way they feel. It's about the need of changing their behaviour. OK, some songs are about alcohol but they are more about addiction, whether it is alcohol, a lover, or something else. It's about people who want and need too much. They're not getting it so they look elsewhere to get it. The song 'Lullaby for Liquid Pig' is about that when you need people too much. 'Liquid Pig' doesn't mean liquid pig like alcohol, it means thirsty - it also does mock the use of alcohol, 'you liquid pig !!' (she's mimicking a fat guy sweating because of alcohol…)- but it's more about being thirsty for all sorts of things that are beyond alcohol. (000) People say it's about alcohol because it's the easiest thing to think.
SWd: I heard you changed the title from AA to Lullaby for Liquid Pig….
LG: I read that too. I have no idea why that guy said that. That was one of those things that somebody wrote. It was always 'Liquid Pig' and then I changed it to Lullaby for liquid pig.
SWd: Did you name the album after the saddest song on it ??
LG: No I titled that song after the album. That song used to be call 'Fix' for a very long time and then I thought 'oh no no no that's what the whole record's about. It's not actually about what you think it's about (alcohol)…It's about loneliness, isolation, behaviour and need.' The song 'Lullaby for Liquid Pig' is a love song about a person I need a fix of. (000). And 'Nobody's playing' is about thinking there will always be someone to cope with your problems but after a while nobody's playing no more and you have to face that. If you have your shit together, you can help people but if you don't, you suck energy from people.
SWd: In the first albums, there are many instrumental tracks, intermissions and you no longer do it why??
LG: I just didn't do it on this record but I still do it.
SWd: You used to play a lot with the voices – several voices on the same songs…
LG: I don't think I've ever really done it that much…
SWd: In Happiness for example…
LG: Layers ??
Swd: Not layers… little voices here and there on a speaker or the other…
LG: Oh, I would probably do that for emotional effect but on this record I thought that the emotional effect should be right in your face because you're sleeping, you can't sleep. These are lullabies but you can't sleep so there's this voice in your head going 'stop, stop, stop…change change'. The funny thing is that it's called lullaby but the songs are not really lullabies, they are quite sad.
SWd: Did you want to make lullabies in the first place ??
LG: I never think ahead like that. That's the round thing I'm talking about. I just would write and I would record and then change it completely and then finally all of a sudden they'd go 'oh this sound like they go together, oh, these sound like lullabies'. I didn't plan it.
SWd: I really think they sound like lullabies because they're sparser than before…
LG: That's just the way they were supposed to be…
SWd: Lullabies make me think that there is a discrepancy in your music between sad lyrics and the music which is sometimes a bit lively. [For example 'Around the world' ('what a waste to feel the way I feel), 'Happiness' ('pain and sadness are real to me, they stick around and let me be'), 'Small Heads' and on this one with 'Pearls', 'Nobody's playing' and 'It's party time'.] Is it some sort of irony you are looking for ?? They sound like lullabies but they are quite sad.
LG (smiling): All I know is that when it happens I know it's right, do you know what I mean?? Like 'Party Time' it's a joke, it's not party time, obviously this person thinks they're having a party but all of a sudden they're going 'God this is not a party it's pathetic'. I don't wanna be like this. Sometimes it's to mock yourself, do it in that way like 'hey isn't this fun?' or how stupid you've been. It makes you see yourself differently so that you can change. It's all about that, trying to get the feeling that you're stuck in some place that you want to get out of…
SWd: Did you record more drums that actually is on the album ?? In 'All the pretty lies' drums are mixed so low…
LG: No the rhythm that you're hearing probably comes from my regular tapes. We kinda wanted to have something there but we didn't want to put real drums on it. On other songs, we decided to put real drums over my drum machine. On 'Liquid Pig', Joey plays very little drums but it's very good and on 'Party Time' Wendy Melvoin who usually plays bass (like in Prince years ago), she played drums. I don't like to have too many drums because it gets in the way of my voice. I can't do my voice if the drums is… so they have to be kind of fucked up drums….If there is proper drums….
SWd: In the previous albums there are a lot of drums….
LG: Not a lot. I think Slide has the most…
SWd: I think Happiness has the most
LG: Oh, Happiness yes, well that was my first proper record. That I did with other people…
SWd: Oh, don't you consider Moon Palace as a proper record ??
LG: I consider that as a record but more as a demo. It's the first things that I did. Happiness: I went in the studio with people and they played. There is really cool drums on Happiness but when I'm doing this at home by myself the drums that I come up with, unless you gonna go in the studio and do the whole song over, you can't put a lot of drums on it, the drums and bass have to be the first thing when you do it properly. So if you do it in a weird way like the way that I do them, when you add drums on top they have to be very careful because they are gonna be in the way of other things…
SWd: I noticed that the only other album front sleeve on which you appear is Moon Palace…
LG: Right. Well, it's the same as other things. When something works, I'm ok with it, I don't never say 'I'm not putting my picture on the record', it's more like 'let's try a million things' and then I know when it's the right one. On this one we had many other things besides me but I thought of that like you probably have the one that has the title on it, the proper one has the title. It's very quiet, a room, just me levitating, not having the feet on the ground. To me, it looks like what the record sounds like so I chose that one.
SWd: I have the proper one as a matter of fact. I have a question about Happiness… Were you ill when you recorded it ??
LG: I sound like I have a cold, don't I ? Well sometimes people ask me 'do you think you've changed over the years?'. The only thing I think that has changed is that I sing better than I used to. It was my first real record. If you listen to Moon Palace, my voice is so low and Happiness was the first time I had to actually sing louder and I didn't really know how to sing yet. So, no I wasn't sick (laughs)
Swd: Geek the girl is my favourite album. Are you aware that some of the songs might be disturbing and might make the listener feel ill-at-ease ?? Songs like 'A psychopath..' for example…
LG: Well you see the point is to make you feel ill-at-ease so that you understand what somebody else might be feeling and maybe you are going through that yourself and you understand. That song is not even about a psychopath as much as it's about fear. It is about a psychopath but a lot of songs have stripped away what the lyrics seem to be about or what's the emotion. In that song the emotion I wanted to convey is that life is hard enough without this other shit, being so fearful of another person just gets in the way of the growth. Geek the girl is about this person who's not growing and is real stuck. Most of my records are about people who are stuck but they want to go somewhere else. I think it's ok to feel ill-at-ease about a psychopath because that's the point. These people who assault other people do make you ill-at-ease, you can't think of everything else except them.
SWd: Where did you find the phone conversation ??
LG: My ex-husband works at a tv library, what's it called ?? Communications… Anyway, he heard about this tape, it's a public domaine tape that they had played on many rape documentaries and he played it for me and I just thought 'well oh my God, I can't possibly use that, that's too intense' but then I started thinking about it. I'm writing about things that I'm fearing and she's actually going through it and nobody would help her and that man at the end of the proper story… the reason why they play that tape is because the cops didn't take her seriously and when they finally came, it was too late, he raped her and killed her. So that fear that you're feeling is absolutely fucking real and the fear that I'm feeling was real but it was stuck in my head because this guy wasn't at my house. I was just afraid he was gonna come there. When I mixed that song, I couldn't sleep at home, I had to go to my ex-husband's house and sleep over there (laughing)… but I knew that I did what I wanted to do…it's scary…
SWd: Songs like 'Cancer of Everything' or 'Secret Reason', do they deal with fear too??
LG: Cancer of Everything is a mockery of (snivelling tone) 'when you're so sad, and you're this and you won't do that, that you won't change, and you get sick'. People often get sick unconsciously to get attention but they don't know they're doing that. They get a lot of attention from people like 'Oh, are you feeling better today' (compassion tone). It's a very strange and sick way of getting attention and not try to change your bad behaviour.
SWd: Did you put more lively songs on Lullaby to find a sort of balance ??
LG: 'It's party time' is lively because it needs to be lively. But it's also a little sick so you know it's not properly lively. It doesn't work on my music to do that.
SWd: I didn't mean lively like a pop song, I meant in general…
LG: Yeah I know. But I like beats, I enjoy that. I just don't use them as much because I don't know how to do that…
SWd: What do you think of Love Circus ?? The end is very different from the beginning…
LG: It's because the love circus goes from… first you see something then you fall in love, then you see something, then you find out something which is not right, then you get dumped - the song 'We suck' - and then it's like you're alone: 'singing to the birds' yeah yeah yeah is like 'help me, no I'm not gonna help you…' you gonna have to do it by yourself.
SWd: Did you want to follow a pattern ??
LG: Yeah, I just wanted to do it like a story. It ends up sad because you end up being alone. Knowing that it's cool to be alone but it's gonna be hard.
Swd: What about Slide ?? I like it but I think it is different from the other ones…
LG: I get totally different reactions on Slide. It's not my favourite record because… well I enjoyed going into the studio and working with these people but it did make it harder for me to be as intimate as I like to be but I like to experiment and I think it was really good to do that record. It's my most positive record. Some people say that's their favourite record, some people say 'I don't like this record at all'. I don't know. I like it. It kinda makes sense because it's about sliding in-between things: 'are you ok ? are you gonna go up in the stars ?, are you stay stuck ?' It's not saying just one thing and I kinda like the fact that's it's not like all my other records.
SWd: Wasn't the music influenced a bit by the OP8 album ??
LG: No, I love that record but no. It was more by Tchad (Blake), my producer and Jerry Marotta the drummer. I just have such respect for both of them that sometimes they would do things that were so cool and I would think 'I'm not sure if that's really what I want but it's so cool that I really need to stretch'. Instead of being so controlling I just stretched and fit into it.
Swd: You played with Eels on tour. Was it a one time thing or do you plan to play with E again??
LG: Yeah, I played a little bit of strings in the last record. It's like anything. If he calls me and I can do it I'll do it. There is nothing that says that I'm not gonna play with them but…
Swd: Do you wanna stop now??
LG: just a bit more if you want… because I end up talking too much…
Swd: Do you still cover 'These Boots Are Made For Walking' ??
LG: Oh, no! That song is so stupid ! The reason why I put that on the record – and that's why I hate it - is because the record company didn't like anything that we were doing. I was on Capitol and I should never be on a big label and I never will be. We did all these things that we thought were moving and cool and artistic and they would come back and say (big voice) 'well no we need more of this and that' so we recorded that and made it sound stupid and normal with a proper drum sound, I'm singing not the way I sing. We thought it was funny but I really hate it.
Swd: Do you dislike the original ??
LG: No, I love the original. I don't like that it was on Happiness because I think that record was really really good until they started fucking with me, they wouldn't let me do my sequences. I fought with them so much and then we came up with this song and they said 'woah we'll just put that out' so I was like 'just give up' (laughing)… Then when 4ad put the record out I just didn't put it on there because it just didn't had any reason to be…
SWd: I heard you were a piano genius when you were a child…
LG (laughing): a piano genius ?? Where did you hear this ??
SWd: A friend of mine actually read that in a French rock dictionary that was issued a couple of years ago in which there is an article about you and the guy who wrote it says that you used to be a piano genius…
LG: It's funny how in media people change your words around and people really think what they read is right. I'll get back to the piano genius but right now there is this article in Mojo about my favourite songs. We had a really good conversation over the phone but the girl changed my words around and it was really hard for me to read that because it was 'I didn't say that'. She asked me what are your favourite records and I said there are too: Nirvana In Utero because it makes you scream, give out to anger and you jump around and then Kate Bush Hounds of Love because you cry, and it's the same feeling but two totally different record and she wrote (reporter news voice) 'she likes Nirvana 'coz she can jump around and she likes Kate Bush because she can scream to it!!' I didn't say that… Who screams to Kate Bush?? Kate Bush is like 'oh, oh my God…' (expressing pleasure). Anyway, the piano genius I had no idea what he meant. I used to write songs on the piano when I was very young like little operas but they were like 'tututututu' (singing similar isolated notes). It was not like an opera (laughing). Maybe he thought that when I said opera, it meant… it was just a whole story, kinda like the way I make my records now and I did that when I was like seven.
Swd: Well, thank you…
LG: thank you, is that enough ??
Swd: Sure, thanks…
/july 1st 2003/