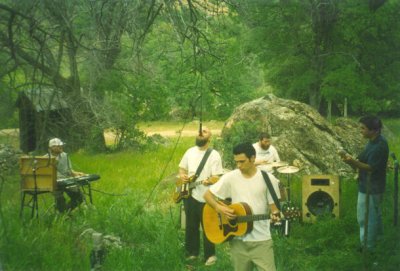 Grandaddy
nov 28th 2003 - Havana Cafe, Toulouse, FR
interview with Aaron (drums) and Tim (keyboards) by El Compila Funkistador, SEB WOOd and Barbara H
ECF: Hi! I was wondering how your backgrounds, living in Modesto, California influenced your music...
Tim: Well, it's in an agricultural part of California, which is about an hour and a half from San Francisco, 300 miles away from LA and it's quite a lot different from other cities in California, there's not a lot going on, there are not many venues to play at, so, it was a real slow start for us, we just kinda played around the area, didn't really get out much... so yeah definitely the way the band was formed had a lot to do with the fact that we're from that area... Most of the songs are about the area where we're from, what goes on in the everyday life of Modesto.
ECF: It's very different from the California we know, LA...
Tim: it's a lot different, yeah. It's more like a Middle-Western town, really, than a California town. What's nice about it is that we're close enough (of San Francisco & LA) to know those things... we can go and experience them without having to live there. It's pretty close to San Francisco and we have a beautiful area and we can go to San Francisco quite easily if we need to...
Aaron: actually, a good starting point if you want to know more where we're from is to read the famous American book, one of the best of American litterature, Grapes of Wrath by John Steinbeck... the area where the migrant workers end up is kind of our area. The bulk of the settlement of our area was between 1929 and 1935, during the depression, the economy was really bad and there was a huge drop and all the people who had farms in the Middle West moved out to California to work in the farms there and tha's kind of how our area was settled... that's probably why it feels more Middle-Western than Californian. There's still a southern accent, a southern twang in the area, it makes people sound like they're from Oklahoma but they were born and raised in California. It's a weird area, not a really nice place to visit.
ECF: is it still an agricultural area nowadays ?
Tim: yeah there's a lot of agriculture that goes on
Aaron: it's a food processing town, full of factories, full of agricultural processing, places where they turn raw agricultural products into food, sugar, flower, fucking cotton, rice... that's the bulk of our economy... it's actually a big town, 220 000 people, but it's still real dead.
ECF: What would your jobs have been if you hadn't been successful with Grandaddy ?
Aaron: nothing spectacular (laughs) we'd just probably be working in factories and warehouses and stuff like that...
ECF: Before making money with Grandaddy did you have to work in factories ?
Aaron: we don't make any money...
Tim: we did other things. Kevin...
Aaron: Kevin did screen-painting, Jason was a...
SEB WOOd and Barbara H gloriously enter Grandaddy's tour bus and interrupt the interview
SWd & BH: sorry!
ECF: What kind of musical influences did you get in Modesto ?
Aaron: that would be misleading because out of the many things that have guided our band, a lot of them don't have anything to do with music... you know it's... an old guy walking down the street, a dog... that stuff influences you as much as the fact that i listened to Neil Young when I was younger or ELO or whatever... that stuff is honestly inconsequential compared to books and movies and real life... that's the influence
BH: why is the "man versus technology" theme less present in Sumday ?
Tim: When The Sophtware Slump was done it was a period of time when things were going on in California, there was a lot... the dot com thing going on... there was a lot of people moving in from San Francisco Bay area into our area because they couldn't afford to live in the Bay area anymore and they would build houses and it was kind of overwhelming.... i'm gonna go and guess that it was a lot of what was going on when the album was done, when we recorded and that's why we had that...
Aaron: We just moved on to other stuff
Tim: The new record is more about what we're doing now, it's more representative of the band in 2003
BH: it was supposed to be a double album...
Tim: it was going to be two parts...
Aaron: ...same songs but split onto two cds, so we didn't take away or add any songs, it was just going to be a kind of a mood thing, a mellow one and a more rock one. Jason mixed and sequenced them for a reference listening and they liked how it was sequenced, all on one disc... so, ultimately, we should just not have mentionned the double cd thing in the first place (laughs) Sometimes people go out and say "the record label didn't let you do it" but no...
BH: i thought that that was what had happened...
Aaron: no the record label doesn't tell us what to do
Tim: we tell them what to do
Aaron: we wish! (laughs) we just leave each other alone
SWd: to come back to the central theme of the album, escaping the life of the city to the open country and basically manpower versus technology, in the lyrics you often give feelings to robots and hardware, do you think it's something people tend to do nowadays ?
Aaron: I think it's a kids' thing, you know kids make friends with objects and they put emotions into inanimate things... i don't know... it's a way of personalizing something or giving life to something...
SWd: songs like "I'm on Standby" or "I'm Ok with My Decay" seem to me like pamphlets about modern society...
Aaron: I think it's more introspective than condemning the society... it's more personal... i don't think Jason meant them to be big vast statements, i think they're just little statements that are personal for him and for other people as well
SWd: i think that another theme on the album is that Grandaddy's status as a band has changed and i feel like songs like "Now It's On" or "The Final Push to the Sum" show this evolution...
Tim: i wasn't aware that our band's status had changed, i'm not sure...
Aaron: Our whole deal has always been to step things progressively, a little step at a time... it's hard to say, we don't...
Tim: ...take a lot of stock in planning for the future, we just get on with what we're doing... we don't look around a lot, we just kinda... do stuff.
Aaron: i don't know...
BH: Is "The Group Who Couldn't Say" a reflexion on the band you are now and who you used to be or is it more...
Aaron: no, it's litteral, it's a story song... it's more about people in their homes who are not paying attention to what they could be experiencing in the world
SWd: i think everyone has interpetated it as self-analysis...
Aaron: I guess you can but... we're simple folks... none of us is a students, we never went to college... we're not stupid (laughs) but we don't think we're that ultra err... what's it called ? (laughs)
SWd: did you want to do a sort of Summer album ?
Tim: A Summer album ?
SWd: yeah Sum-day, an album that's easy to listen to in the Summer...
Aaron: not specifically... i mean, we are from California, our winters are not deep winters and we spend a lot fo our life in the summertime... so that's gonna come up in songs... we love the sun.
ECF: on the "Now It's On" video you're performing in front of an audience of toys under the control of a weird scientist... is it the way you feel? like a weird experiment ?
Aaron: i think we're somewhere between a little kid and a scientist... it's always good to act as if you were a little kid... i wish i was able to think like that more often...
SWd: What did you do before the first album ?
Aaron: we fucking played for seven years
Tim: yeah, we got a real slow start... we were a band for quite a while before the first album even came out and we just played around our hometown, just messed around... we did lots of recordings
Aaron: lots and lots of recordings, lots of shows...
Tim: just did whatever every other band that starts does, you know...
Aaron: driving around in a van, trying to fix it on the side of the road, wherever that is... we've just been playing music together since... me and kevin and jason since 91 or 92, and then with Tim and Jim since 95 so... we've been a band for that long, there's always been studios and practice sessions...
SWd: do you still live in the open country ?
Tim: no, i live in Modesto. he lives in ? (sorry) which is just south of Modesto, we don't live in the country, but we'd like to.
Aaron: I live near the country... when i was younger it was like on the outskirts of town now it's still kinda on the edge of town but there's a lot more housing around... i could grab a bike and be in the country in five minutes...
SWd: did the Twin Towers attack affect you ?
Tim: i don't think directly but indirectly, sure
Aaron: absolutely, in more ways than you could think, including the messing up of our great administration... there was a worldwide shock i don't think i've really ever come out of it, it was not just the attack it was knowing that everything's fucking different, no one's safe no one's gonna do the right thing, everybody's gonna fucking do the exact wrong thing... the world is... fucked!
SWd: I had this question about "Wives of Farmers"...
Aaron: we grew up in this farm area and it has all these qualities... we've all grown up with friends living in farms, we know what it takes to be a farmer, and the unsung hero of the farm is, you know, the woman... maybe she doesn't go in the cotton fields and stuff but she's at home, bringing up kids and going through hardships that a suburban woman would never even imagine... we have a very heavy respect for the agrarian culture and the matriarch of that is a strong thing...
SWd: we really like that song, why didn't you put it on The Sophtware Slump ??
Aaron: it's just one of these little songs... you know it's a little song and... Jason writes a lot of songs, it's always hard to figure out which ones are going to get treatment, which ones are going to be b sides, which ones are never going to be anything. that's just one of the ones that were too simple... it's a b-side song for us. But we love the b sides too.
ECF: you should release a b-side album. not released b-sides, something planned: "now, we're going to do the b-sides album"
Tim: you know we kinda got fucked because as soon as we finished the record we were out on the road and there's tons and tons of songs we would have liked to record for b sides...
Aaron: but we haven't been home since March, so unfortunately we have never been able to do the b side treatment but as soon as this tour slows down we're gonna go into the studio and record them
Tim: find a home for them
BH: Did you always have your own studio ?
Aaron: yeah, always
SWd: in retrospect what do you think of your first albums ?
Tim: errrr
SWd: I think they're very good (laughs)
Aaron: without any ego blastering, i really like our records and they're full of mistakes and some of the recordings, especially the early ones are not the best recordings out there but there's definitely character to them... we knew what we were doing even fucking way back so... we're keeping it going.
BH: before you released The Sophtware Slump you sent the label a cd that wasn't really grandaddy...
Tim: it was grandaddy music but it was a fake cd that we made...
Aaron: it was right before we sent the sophtware slump it was a matter of too many phone calls asking about the record... so it ended up Jason and Jim and Tim got wasted for like three days and recorded the whole thing, they would go back in bars in the evenings and they would go back in the studio at night and this ended up with this fucking travesti...
Tim: we've always wanted to do something with it but we didn't know what to do...
Aaron: we couldn't release it as a grandaddy album because it's so fucked...
Tim: so we came up with a fake name, it's a grandaddy record but we called it Arm of Roger
Aaron: it's funny, it's really funny... i wasn't on it so i can look at it as an outsider... it's a bit like Ween but more farty...
Tim: and not as good as Ween!
Aaron: not smart and not as good as ween but sometimes at night you need something funny to get the party going and, yeah, it's funny
BH: when will the tour end ?
Tim: we have two more weeks and we get our first proper break
BH: it's just a break ?
Tim: we're gonna go back on the road in America in the middle of February so we'll have a couple months off. and it's the most we've had in a year, i'm looking forward to it...
Aaron: i don't even know what the fuck i'm going to do all by myself (laughs)
Tim: i think i do...
ECF: did your signing with v2 change anything regarding artistic freedom ?
Tim: that was always part of signing with them: "don't fucking tell us what to do"
Aaron: but in a nice way (laughs)
Tim: yeah
SWd: I think you've become a big band since the last album, in a way, in France at least
Tim: as long as we're going up and we're not going backwards... that's why we keep doing that you know... i wouldn't say that we're a big band by any means...
SWd: well your music is played on national radios here...
Aaron: well this means they need to send us a check! (laughs)
Tim: when we go back home we can tell everyone we're big in France... alright! i think France is like the second best country for us...
Aaron & Tim: thank you, france!
SWd, ECF & BH: thank you!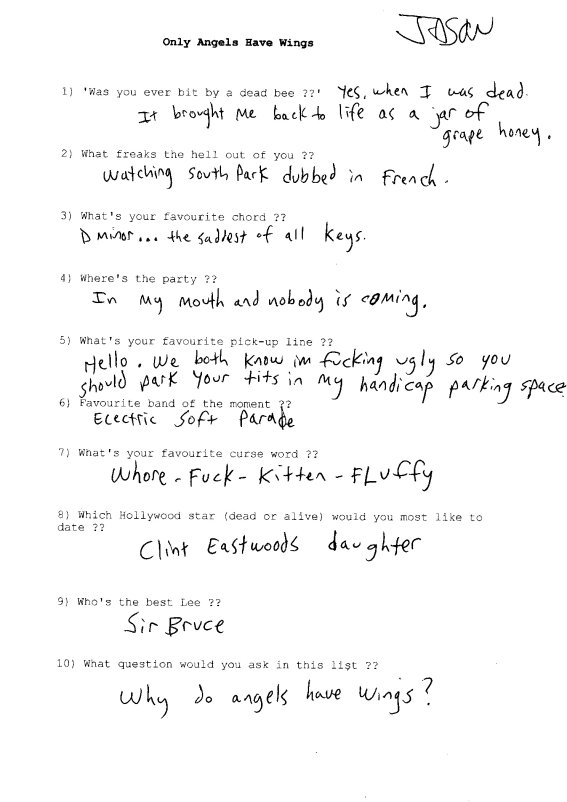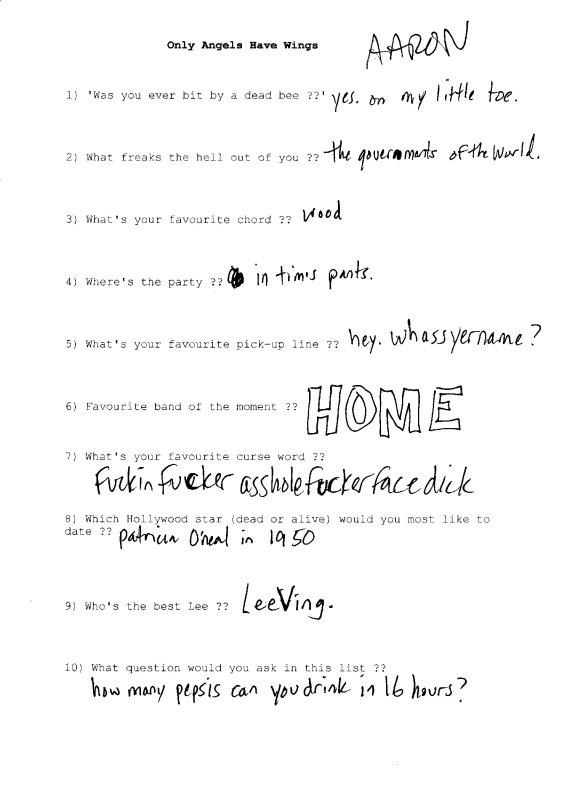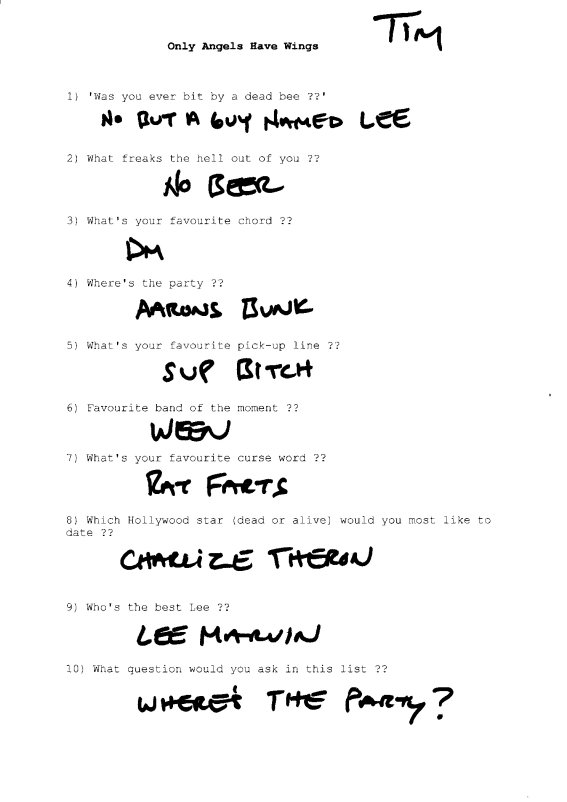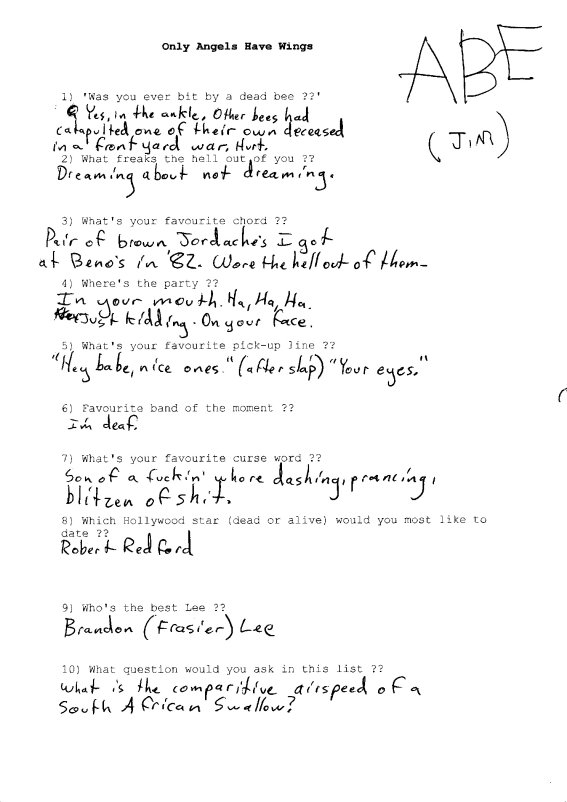 /dec 15th 2003/